by Dennis Durband
NPC Staff Writer
Vaughn Willeto didn't finish high school. As a youth, he ran with the wrong crowd and got into trouble. He was on a downward trajectory, and he needed a fresh start.
Thanks to Northland Pioneer College's IET program (Integrated Education and Training), Willeto is now a ­model of overcoming a tough start in life and moving toward a promising ­career.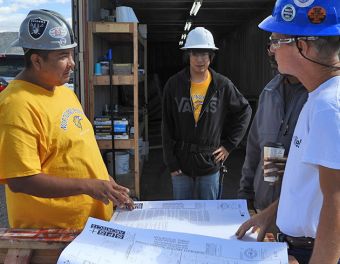 IET fast-tracks disadvantaged youth and adults in Navajo and Apache counties to career ­success through GED® (General Education Diploma) preparation and training in construction skills.
During this academic year, Willeto and other IET ­students in Whiteriver and ­Holbrook are building tiny homes that will be used to house NPC police academy students in Taylor. Willeto has emerged as a leader in his class, and instructor Steve Mills says Vaughn is the kind of student every teacher hopes for.
"Vaughn came to NPC with certification as a welder and is now working on his certification in construction. He has the one thing that will make him ­successful with whatever he does: work ethic. He attends school full-time, works full-time and still manages to be a ­family man in his spare time. He has ­already located a really good work placement once this ­program is over."
As a teen in New Mexico, Willeto went to school through the 11th grade. He says he got into trouble a lot and knew he needed to make a change in his life. At the age of 19, he moved to Phoenix and learned welding at Arizona Automotive Institute. He met his wife and started a family, and "Then it all changed for me." They moved to White­river in 2014, and last fall he enrolled in the IET program. Upon completion of his studies at NPC in April, Willeto will go to work in Phoenix as either a plumber or a pipe-fitter.
Willeto is one of the first ­recipients of the new Jon Graff, Ph.D., Fund Scholarship at NPC. Dr. Graff said Willeto is very ­inspiring and he is glad that someone of Vaughn's ­caliber ­received the scholarship. Willeto is putting this scholarship to good use as he strives toward earning the OSHA-10 safety certificate, National ­Career Readiness Certification credentials and National Center for Construction Education and Research credentials in Core Curriculum and Construction Technology. More importantly, he is expanding his mind and transforming his life through his NPC studies.
"I would encourage others to get involved in the IET program, get their GED® and turn their lives around," ­Willeto says. "NPC is really a good school, and I highly recommend this program to others. Take this program and learn a trade. If I can do it, everybody can do it. A lot of Natives don't understand that this program provides a ­really good opportunity, and they should jump on it. You can get a scholarship, and it's all paid for. It's a great way to prepare for a career and earn better pay."
NPC will accept new IET students for the fall 2019 ­semester. Anyone interested in applying should contact Gail Campbell at (800) 266-7845, ext. 6335 or ext. 7346.
Read more more about GED® or adult basic education opportunities.