SNOWFLAKE – Want to reduce energy use and increase your comfort? Apply the techniques of solar home design into your residence gleaned from a six-week noncredit Solar Home Design course at Northland Pioneer College's Snowflake Campus led by Joseph Costion, noted local sustainable construction expert, on Fridays, January 25 through March 1, from 9 a.m. to Noon. There is a $150 fee for the course.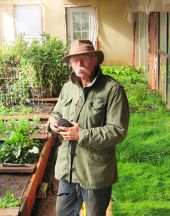 Costion will share how to perform energy calculations and design the structure and passive solar systems required for optimal energy performance. Several passive solar systems and examples will be presented. Other topics covered during the course include solar orientation, site analysis, energy heat loss and solar gain calculations and thermal storage systems.
While focusing on new construction, Costion's techniques can be applied to existing residences as well.
After serving aboard a U.S. Navy nuclear submarine, Costion knew energy was going to be a key issue for the future, but he didn't feel nuclear was the direction he wanted to take.
He turned to solar and is considered a pioneer in the field. "I didn't want to be a part of a legacy that left toxic materials around for thousands of years," he explains. With over 30 years of experience in building construction, Costion began focusing on solar greenhouse construction techniques in the early 1980s.
Today he is a highly regarded expert; serving on a number of statewide boards and agencies that deal with sustainable economic development, green building and solar issues.
Solar Home Design
You can now register and pay for noncredit classes 
online
. 
Need help registering?
 NPC campus offices have computers available to use for registering for classes. at least four days before the class starts to ensure it is not canceled due to insufficient enrollment.
NPC's Community and Corporate Learning Division provides personal interest and specialized corporate training throughout NPC's service area. For more information about noncredit, personal interest classes, contact Katharine Olsen, community learning specialist, (800) 266-7845, ext. 6244, or email. For corporate training, contact Royce Kincanon, corporate learning coordinator, (800) 266-7845, ext. 6239, or email.
– – – N P C — Expanding Minds • Transforming Lives – – –
– – – N P C — Expanding Minds • Transforming Lives – – –