SNOWFLAKE — The "Thin Blue Line" in Northeastern Arizona is a little stronger with the swearing in December 14 of 14 new peace officers who completed the intensive 19-week Arizona Peace Officer Standards for Training (AzPOST) training at Northland Pioneer College's Northeastern Arizona Law Enforcement Training Academy (NALETA).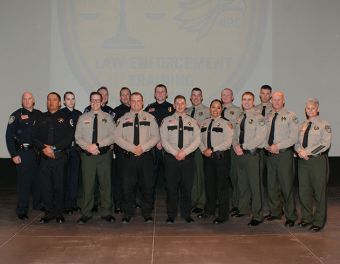 Taking the oath as an Arizona Peace Officer are (left to right, front row): Hopi Ranger Tony Pawesiema, NCSO Deputy Lance Shumway, ACSO Deputy Cade Mortensen, ACSO Deputy Thomas Pacl, ACSO Deputy Ashlee Brown, NCSO Deputy Clayton Hunt, NCSO Deputy Brent Hartman and Class Supervisor NCSO Lt. Toni Garver. (left to right, back row: RTO Alan Rogers, Holbrook Officer Heidi Hunsaker, Snowflake/Taylor Officer Hunter Shelton, St. Johns Officer Jaylen Richardson, Show Low Officer Stavros Castillo, NCSO Deputy Dominic Bethel, NCSO Deputy Travis Neumann and NCSO Deputy Christopher Frazier.
Navajo County Superior Court Presiding Judge Michala M. Ruechel administered the oath to new Navajo County Sheriff's Office Deputies Dominic Bethel, Christopher Frazier, Brent Hartman, Clayton Hunt, Travis Neumann and Lance Shumway.
And to Apache County Sheriff's Office Deputies Ashlee Brown, Cade Mortensen and Thomas Pacl.
Also Hopi Ranger/Officer Tony Pawesiema; Holbrook Police Officer Heidi Hunsaker; Show Low Police Officer Stavros Castillo; St. Johns Police Officer Jaylen Richardson; and Snowflake/Taylor Police Officer Hunter Shelton.
NALETA is a true partnership with regional law enforcement agencies, who assign sworn officers as instructors at no charge to the college, explained Jon Wisner, NPC's Director of Public Safety Education. In recognition of that partnership, NPC President Mark Vest presented a bronze eagle statue to retiring Navajo County Sheriff K.C. Clark. "Without your support, and from the other local and state agencies, this law enforcement academy would not exist."
Guiding the recruits through the academy were Class Supervisor Lt. Toni Garver (NCSO) and Recruit Training Officer (RTO) Alan Rogers (SLPD). Rogers presented the Top Physical Training, Firearms and Recruit awards to Officer Shelton. Deputy Pacl received the top defensive driving award. Top academic recruit award went to Deputy Neumann, who was the subject of some ribbing from Garver and Rogers about a "Driving Miss Daisy" driving award.
On hand to witness the ceremony were college administrators, law enforcement representatives from throughout the region and family and friends of the recruits. Photos from the ceremony are posted online at www.npc.edu/npc-gallery.
Pipers from Timber Mesa Fire and Medical District and the Color Guard from the Navajo County Sheriff's Office presented the colors to open the ceremony.
If you are interested in becoming a certified Arizona peace officer, "Contact the agency you would like to work for to begin the process, which can take four to eight weeks," urged Wisner. "By recruiting and training locally, the agencies know the individual already has ties to the community, through family and housing. This has also been shown to improve the success rate for cadets."
NALETA Class 2019-01 is scheduled to begin January 14. Centrally located at the Northeast Arizona Training Center (Jake Flake Emergency Services Institute), in Taylor, NALETA is a fully accredited AzPOST "closed" academy. This means students can only enroll under the sponsorship of a law enforcement agency.
At a minimum, a prospective recruit must be at least 21 years of age by the end of the academy; and be able to pass a variety of testing processes, which will include physical agility, firearms and written tests, background investigation and polygraph.
"To succeed, a recruit must be dedicated and willing to endure the intensive academic and physical training required," explained Wisner.
Further information concerning AzPOST eligibility requirements can be found online at post.az.gov then by clicking on the "Certification Process" link in the top navigation bar, or by contacting the police or sheriff's office where you would like to begin your law enforcement career. Tribal officers, game and fish wardens and agricultural inspectors are also sworn peace officers.
Information can also be obtained by contacting Jon Wisner, NPC's director of public safety education and NALETA director, (928) 536-6265, email, or the law enforcement training section of this website.
– – – N P C — Expanding Minds • Transforming Lives – – –