SNOWFLAKE – Explore the "World of… Sprouts, Gourmet Greens, Onions and Garlic" in four separate noncredit courses led by local gardening guru Kim Howell-Costion at Northland Pioneer College's Snowflake campus, 1611 S. Main St., this spring.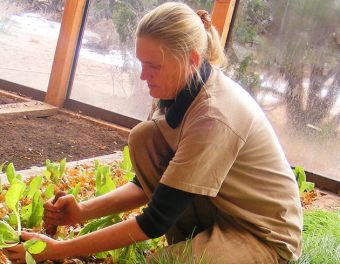 These are what she calls her "fun" classes. "The ones where we get to eat the goodies we've grown," Kim says. In each, Kim discusses the culture and history of the foods, as well as how to grow, care for, harvest and preserve their goodness and treats the class to dishes made from each ingredient.
The format for these courses has changed from previous offerings. Now each course meets for four sessions, providing more in-depth information. And there's food provided each week.
Each AGR 099x World of… course costs $68. Classes are on Fridays, from 1 to 4 p.m., in the Snowflake Campus Student Center, room 131.
The "World of Sprouts" course, January 4 through 25, takes students from garden to preparation of a diversity of seeds, grains and beans as sprouts. Topics will include the history and nutritional benefits of sprouts, the varieties of seeds, grains and beans for sprouting. You'll learn how to grow sprouts using the water-rinse method and earth sprouts, growing wheatgrass and creative sprout cuisine.
Learn how to grow and prepare a variety of lettuces, Asian and wild edible greens in the "World of Gourmet Greens" course, February 1 through 22. Kim presents some of the diverse cultural uses of lettuce and greens, varieties for each season; how to save seeds; growing, transplanting and seasonal care; and harvesting for creative soups, salads and entrees.
In the "World of Onions," March 1 through 29, you'll learn how to grow, store and preserve them; meet the various members of the onion family – bulbing onions, chives, shallots and other cousins; learn how to prepare the soil for growing; explore ways to start seeds indoors and out; seasonal care; harvesting and curing for storage; seed saving; and sample cuisine tips for roasting and other methods for using onions. There will be no class on March 12 when the college is closed for spring break.
The last class in this spring's series is the "World of Garlic," April 5 through 26. She takes students from garden to pantry to garlic cuisine. Kim explains soil preparation; when and how to plant; and the various garlic varieties. Other topics will include seasonal care, harvesting tips, saving seed, storing and preserving methods and garlic braids. Students will taste and experience some quick and easy gourmet uses of garlic.
Previous
World of…
classes have filled rapidly, so sign up early. You can now register and pay for noncredit classes 
online
. 
Need help registering?
 NPC campus offices have computers available to use for registering for classes.
NPC offices will be closed December 24 – 26 and 31 and January 1 and 7.
NPC's Community and Corporate Learning Division provides personal interest and specialized corporate training throughout NPC's service area. For more information about noncredit, personal interest classes, contact Katharine Olsen, community learning specialist, (800) 266-7845, ext. 6244, or email. For corporate training, contact Royce Kincanon, corporate learning coordinator, (800) 266-7845, ext. 6239, or email.
– – – N P C — Expanding Minds • Transforming Lives – – –