You can transform a lump of clay into beautiful, useful pottery with the techniques you'll learn in a noncredit "Clay Art" class on Tuesday mornings this spring at Northland Pioneer College's Show Low Campus, 1001 W. Deuce of Clubs.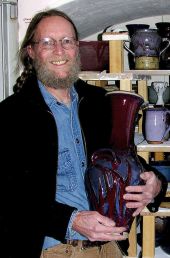 With one-on-one instruction from master potter Michael Sweeney, you'll learn how to form and finish clay art. All skill levels, ages 12 and up, benefit from the knowledge he has gained during his lifetime of pottery making.
"Beginning students will gain the basic knowledge to form and finish pieces, with an emphasis on wheel-thrown forms. For the advanced student, it will provide an intensive studio environment to innovate and expand their techniques, including the mixing of their own glazes. I want to share with NPC art students what I've learned over a lifetime of pottery making," Sweeney explains.
"Michael, with his laid-back attitude and willingness to help, was awesome," commented one student after attending his "Clay Art" class.
You can enroll for a full 16-week course (reference ART 099x), January 15 through May 7, for $220, which includes a $20 lab fee for glazes and kiln firings. Two 8-week sessions are also available, January 15 through March 5 or March 19 through May 7 for $110 each. There will be no class March 12 during the college's spring break.
The class meets on Tuesdays, from 9 a.m. to 1 p.m., in the Show Low Campus' Aspen Center 3-D lab, room 104. Students must bring their own basic clay tools.
Register Today!
Sign up for the
Clay Art
class at least four days before the class starts to ensure it is not canceled due to insufficient enrollment. You can now register and pay for noncredit classes 
online
. 
Need help registering?
 NPC campus offices have computers available to use for registering for classes. College offices will be closed December 24 – 26, 31 and January 1 and 7.
Sweeney has over 40 years of experience in ceramics. While attending college, he apprenticed under master potter Gurujan Singh in Laguna Beach, CA., and also taught ceramics at the Experimental College at the University of California – Irvine. A Spanish and Cultural Anthropology major in college, he spent 15 months in Central America, studying Mayan Art and Culture.
In 1987, Sweeney began attending ceramics classes at NPC. After 11 semesters, he built a kiln and set up a studio in his home, offering informal lessons. Feeling the need for inspiration and the company of other potters, he came back to NPC, studying under instructors Lee Sweetman and Sharon Brush. For the past several years, he has served as a studio aide. Several of his ceramics pieces were included in faculty Talon Gallery exhibitions.
NPC's Community and Corporate Learning Division provides personal interest and specialized corporate training throughout NPC's service area. For more information about noncredit, personal interest classes, contact Katharine Olsen, community learning specialist, (800) 266-7845, ext. 6244, or email. For corporate training, contact Royce Kincanon, corporate learning coordinator, (800) 266-7845, ext. 6239, or email.
– – – N P C — Expanding Minds • Transforming Lives – – –