Maderia Ellison, associate vice president and Northland Pioneer College's Chief Business Officer, is the recipient of the 2018 CBO of the Year award from the national Community College Business Officers (CCBO) association.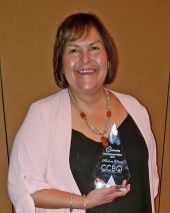 Ellison, a U.S. Navy veteran, started as Director of Financial Services at NPC in August 2007. She became interim VP for Administration in November 2015, and accepted her current position in March 2017. She is an active CPA and has over 25 years of financial accounting experience in both the private and governmental sectors.
The CBO of the Year award recognizes her effectiveness in the performance of assigned responsibilities, participation in college-wide strategic planning and implementation of policies supporting the college's mission and community leadership and professional activities in state, regional and national associations.
NPC was years behind on state audits when Ellison became Director of Financial Services. Showing frequently demonstrated decisiveness and intelligence, in the first two years of her tenure, current audits were completed on time and the backlog of previous audits was erased. By her second year, NPC had become the first community college district in the state to complete their annual audit by the Office of the Auditor General, a distinction continued through the present audit cycle.
Since initiating preparation of a Comprehensive Annual Financial Report (CAFR) in 2014, the publication has earned an Excellence in Financial Reporting certification from the Government Finance Officers Association of the United States and Canada (GFOA). "The CAFR provides more information than the annual audit report and covers not only the current year, but also the previous 10 years. It demonstrates the college's commitment to transparency and how seriously we take our fiduciary responsibilities," explains Ellison.
Active in numerous professional organizations, including the CCBO, GFOA, Arizona Society of CPA's, National Association of College and University Business Officers (NACUBO), Arizona Community College Business Officials Council (ACCBOC) and Arizona Women in Higher Education (AWHE), Ellison also serves as a community representative to site council and volunteers with PTO and Native American and veteran causes.
Ellison graduated from Ft. Lewis College with her bachelor's in accounting and has completed requirements for her master's degree in public administration this semester from Western International University. She is also a graduate of CCBO's leadership academy.
CCBO is an affiliated council of the American Association of Community Colleges (AACC) and serves the needs of business officers nationwide through conferences, leadership programs, professional development and networking opportunities. CCBO recognizes that excellence in the profession sets the standard for the future and strives to acknowledge those professionals who have excelled in the field.
– – – N P C — Expanding Minds • Transforming Lives – – –