Tuition waivers, valued at over $240,000, will be awarded to 12 All-Arizona Academic Team students from Northland Pioneer College to complete their bachelor's degrees at one of Arizona three public universities. The Arizona Board of Regents awards the waivers, for up to 60 credits, to encourage the state's top scholars to finish their education.
Receiving tuition waivers will be NPC students Tiffani Martin and Nicole McConnell representing the Holbrook – Painted Desert Campus; Ashley DeMaria and Larrilynn Oso representing the Winslow – Little Colorado Campus; McKenna Sargent and Jaden Willis representing the Show Low – White Mountain Campus; Rhonda Krouse and Austin Stanislawski representing the Snowflake/Taylor – Silver Creek Campus; Lori Moore and Susan Thompson representing the St. Johns Center; and Cassie Dows and Raney Pate representing the Springerville/Eagar Center. Team members will also receive scholarships from NPC.
NPC nominees, along with other top scholars from the state's other community colleges, will be honored at a luncheon, Wednesday, February 27. NPC can nominate two students from each campus and center location to the All-Arizona team. A student must have taken a class at or originating from that location to be considered for one of the two nominations. To be eligible for nomination, a student must have a cumulative 3.5 or higher grade-point average, be working toward an associate degree and demonstrate college or community volunteerism and leadership.
Arizona, for the past 24 years, has separately recognized the state's top two-year college students as a part of the All-USA Academic Team program, co-sponsored by the American Association of Community Colleges (AACC), Phi Theta Kappa International Honor Society (PTK), Follet Higher Education Group, the Coca Cola Scholars Foundation and USA Today.
Three of this year's team members are nursing students planning to utilize their tuition waivers to concurrently enroll in Bachelor of Science – Nursing (BSN) programs at two of the state's universities. Four more are planning healthcare-related careers.
---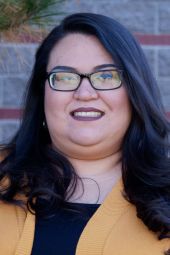 Growing up on the Navajo Reservation was very difficult, but also very rewarding for Ashley DeMaria, a first-generation college student and single mom. A brain tumor caused her mother's death when she was 11, and her father died two years later, also due to a brain tumor. "Many of my cultural teachings focus on paying homage to my ancestors. Though my mother has passed on, there is no greater honor than to celebrate her success by walking across that stage, receiving my nursing degree, and showing the world, that despite many odds, we did it!" notes DeMaria.
An NPC ethics class reinforced the foundational concepts to "give the best parts of me to my patients" presented by her preceptors and nursing instructors. "It is my duty to treat everyone equally and pass no judgment," she explains. "I know there will come a time in my career that I may have to care for a patient who may not deserve the best of me, but that is not my place to decide. I will treat everyone with kindness and respect."
She will be enrolling in Northern Arizona University's BSN program, with the career goal of becoming a Nurse Practitioner.
---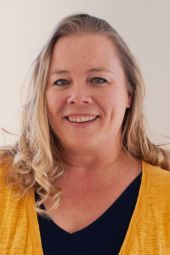 What would you do if your high school guidance counselor told you chances of succeeding at your dream career were few and far between? That you needed a "more realistic" career choice?
Cassie Dows recounts that very conversation with her counselor when she said she wanted to become a writer. "I had wanted to be a writer since I was 8 years old, when my father would read sci-fi/fantasy novels to me at night time," she said.
Fast forward to a similar conversation three years ago with her own son about his future. "I talked with him and told him never to let anyone tell him that he couldn't do something. If he wanted something bad enough, he would find a way to make it happen," recalls Dows. That conversation rekindled a desire to share her love of literature and the English language with others as a college professor. She is undecided on whether to continue her education at Arizona State or Northern Arizona universities.
Another of her passions, centers on that conversation with her guidance counselor. Dows is in the early stages of designing a social media-based platform to expose children to the vast number of career opportunities. "Our children are often too limited by what they are exposed to and deserve the opportunity to explore more options," notes Dows. She hopes to include videos with details about specific careers, with a focus on the uncommon ones.
---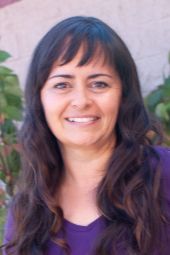 Rhonda Krouse does not need a DNA test to prove she was destined for a career in public safety. At 14, she was volunteer firefighter in the department her grandfather had started nearly two decades before she was born. Her career path includes service as a 911/police dispatcher, law enforcement officer, school health tech and, currently as a firefighter/EMT. "Once I got back into the fire service, I was hooked. I love helping people and educating the community in fire safety and prevention," notes Krouse. She plans to enroll at Northern Arizona University in the fall, pursuing a bachelor's degree in fire service administration.
"If you give people the knowledge and know how to achieve something, anything is possible," Krouse says. While working as a school health tech, she taught adult-only Cardio Pulmonary Resuscitation (CPR) to sixth graders. She teaches CPR classes monthly and introduced "Stop the Bleed" training locally to help victims of stabbing, gunshot wounds or arterial bleeds. She is also a certified car seat technician, showing new parents (and grandparents) the proper way to install and use the safety device.
"All of my career choices and college classes have taught me valuable lessons that I use in my everyday life," concludes Krouse.
---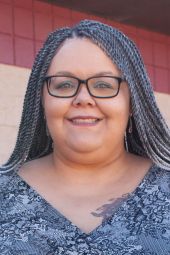 Serving as president of NPC's Student Government Association (SGA) sparked an interest in the political process that has caused Tiffani Martin to recently alter her career plans. Originally planning to focus on elementary education, Martin now plans to study political science at Arizona State University in the fall.
Under Martin's SGA presidency, meetings started utilizing the college's network to involved all locations, student representation tripled, the group's constitution was re-written, fundraisers provided more scholarships and an initiative to provide better access to affordable childcare for non-traditional students was begun. Martin recognized, "It takes a certain force of character to lead others and that, often, a leader must be willing and able to assign duties rather than just wait around and hope that there will be enough volunteers to get your goals accomplished."
While completing her NPC degree requirements, Martin has been working as a lab aide in College and Career Preparation (CCP), assisting adults achieve their high school equivalency diploma or GED. "It is very rewarding to watch students that came in with low levels of literacy achieve their GED after a few short semesters in our program," notes Martin. She hopes to incorporate the teaching and leadership skills she has learned into her future career.
---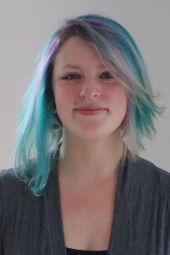 Surviving on discarded food scraps while on the run from a domestic abuser, Nicole McConnell can easily empathize with those seeking shelter at the SAFE House, where she is a case manager, working 12-hour shifts. She struggles with PTSD from those encounters, but has found a new passion that consumes her – Mycology, the study of fungi.
Tapping the knowledge gained from six years of "self-propelled education," McConnell leads presentations and excursions on mushroom foraging, always watchful for that unidentified species that could provide a solution to the world's problems of hunger and pollution. She is a walking encyclopedia on the attributes and uses of fungi. "I passionately want to know what lies in the brush just beyond our feet," notes McConnell.
She volunteers with the Arizona Game & Fish Department's Herbarium, creating a mural that showcases the snakes and other species on display for visitors. "Being surrounded by like-minded individuals allows me to pick up applicable knowledge about botany, biology and the world around me," says McConnell. "It's helped me discover a deeper appreciation for the earth and I want to spread that enjoyment to others."
McConnell will be studying microbiology at Arizona State University this spring. After earning her doctorate, she wants to travel the world as a field research Mycologist.
---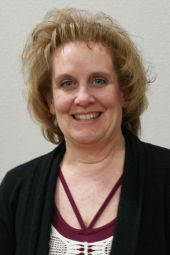 "I admire those who overcome challenges and rise above them to excellence despite the challenges," notes Lori Moore. Her path to a bachelor's degree in business administration, focusing on finance, with a minor in psychology has not been easy. While studying at NPC, Moore has worked full-time as a retail cashier, new-hire trainer and bookkeeper to maintain the health insurance coverage needed by her family. She plans to continue to work full-time while commuting to classes at Northern Arizona University's Flagstaff campus, starting in the fall.
Moore delayed obtaining her bachelor's until her two children completed their degrees. Then she enrolled at NPC, completing the Western Association of Food Chain Retail Management (WAFCRM) certification and NPC's Leadership & Management Associate of Applied Science (AAS) degree within one year. She helped promote the WAFCRM training, offered online through NPC, to co-workers and now serves on the industry advisory council for NPC's business programs.
"I appreciate those who have taken the time to teach me what they know and help me to succeed in school and my career," continues Moore. "I hope with time and success in my field to have the resources to give back to education in honor of all those who have helped me and my children accomplish our educational goals."
---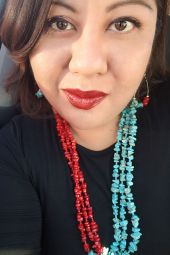 At the age of 14, Larrilynn Oso became the provider, protector and leader of her family, a role she continues in today. "I can recall the feeling of worry and doubt – having exactly seven dollars in my pocket, and planning how I was going to feed my family."
Now this first-generation college student is on the path to earn her doctorate and become a clinical or forensic psychologist. She will be enrolling at Northern Arizona University in the fall to continue her studies.
"I want to use my degree to help people heal and gain a better understanding of their situation or how they can cope with a diagnosis," Oso said. "The people of Winslow have done so much for me, it would be an honor to return the favor and to show others – especially Native American youth – that we can be role models and examples that education can provide for bettering oneself and achieving meaningful success."
As a member of the Winslow Arts Council, Oso has helped organize the Great Big Tiny Art Show, the Phenomenal Women Art Show, Clothe-a-Child and Painted Paws activities and the documentary film project highlighting the impact of the historical Winslow Theater on the local community.
---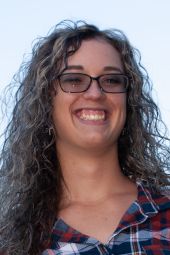 Turning the dimes in your pocket into finding a cure for type 1 diabetes (T1D) is the goal of a fundraising project created by Raney Pate. Her brother suffers from T1D, and Pate's project will go to Dr. Denise Faustman's clinical trials to gain FDA approval for treating patients using the inexpensive generic drug Bacillus Calmette-Guérin (BCG), commonly known as the tuberculosis vaccine.
T1D claims the lives of many kids each year because low blood glucose levels can be fatal if untreated within a short period of time – sometimes minutes. Pate's efforts to raise awareness and find a T1D cure are driven by her strong work ethic and desire to succeed.
Pate spends hours, even in inclement weather, training her barrel horse. This has taught her delayed gratification and a work ethic that applies to all aspects of her life. A champion barrel racer, Pate plans to pursue her bachelor's degree in aerospace engineering at either the University of Arizona or Arizona State University. "Many inventions we use every day came from developments in aerospace engineering – scratch-resistant lenses, artificial limbs, super soaker water guns and even invisible dental braces," notes Pate. "This will prepare me to work in the field to develop innovative technology to make lives safer, more convenient and affordable."
---
After serving an 18-month church mission in Chile, McKenna Sargent is now focusing on the prerequisites for admission to NPC's Nursing program next fall and the concurrent enrollment BSN program at Arizona State University. Valedictorian of her Snowflake High School graduating class and the first female in her class to go on a mission, Sargent used the knowledge gained in previous NPC classes to correctly use the Spanish language and to adapt to the culture and traditions of Southern Chile.
"The opportunity to be a leader and overcome hard challenges, such as learning a new language and culture, has forever shaped me into the person that I am today," explains Sargent. "I can hold leadership positions with authority and respect, and can share my ideas and teach in an effective manner to help those around me."
The leadership skills Sargent developed while in Chile are now being shared back home with other youth heading out on their own mission trips. She is regularly invited to speak at church meetings and weekly teaches a group of 16-18-year-olds.
A newly-wed, Sargent's career goal is to become a Certified Registered Nurse Anesthetist, which requires a master's degree. Her long-term goal will be to earn a doctorate, after raising her family.
---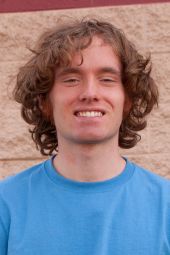 Austin Stanislawski is passionate about playing a pivotal role in making mental health care as widely available and accepted as physical health care. "Unfortunately, the social stigma and discrimination attached to mental health is commonplace and prolongs recovery for those suffering mental issues. They do not want to admit to anyone that they may be mentally ill and therefore they continue to suffer in silence," notes Stanislawski. His career goal is to become a psychiatrist, taking the first step in the fall by studying psychology at Arizona State University.
"It will be my goal to create a safe haven for those needing mental health intervention, not only in my practice, but also in my local community and beyond," he adds.
Growing up in a rural logging community in Upper Michigan, Stanislawski developed the personal drive to seek out opportunities to better himself – personally, professionally and educationally. While an NPC student, he has sought out opportunities to study Spanish abroad; assisted in the production and performance of My Fair Lady; served as a federal work study student; and volunteered at the local Senior Center and the regional Ronald McDonald House. "I have learned that volunteering truly is a 'labor of love'," concludes Stanislawski.
---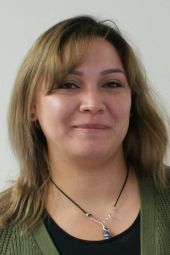 Moving with a sense of urgency came naturally to Susan Thompson during her service in the US Air Force. Returning to civilian life, Thompson found no outlet for her sense of urgency that had been driving her life until she decided to continue her education at NPC.
"When I first returned to college, I was daunted by the work and class participation school required," she explained. "Dr. (Amy) Grey, one of my NPC instructors, broke down the walls of my introverted self and forced participation in her classes in a way that was so simple it almost seemed to come naturally."
Thompson used that new-found confidence while studying esthetics at the Imaj Institute. After passing the test with no faults, she was asked to assist another beginning student. Thompson guided her through the hands-on steps required to pass the exam. "Although she was the one who passed, I felt like it was me all over again," she adds.
Now back at NPC, Thompson uses the techniques sparked by Dr. Grey to help explain products or procedures to clients, and make class presentations without fear. Thompson's sense of urgency is now focused on becoming a healthy lifestyle coach by enrolling at Arizona State University in the fall.
---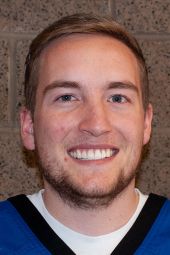 First-year Nursing student Jaden Willis is also planning to be concurrently enrolled in the Arizona State University's BSN program, with a career goal of becoming a nurse practitioner in his hometown of Snowflake.
Willis delayed his education to serve a four-month church mission in Houston, where he volunteered in a food distribution center and helped families relocate in the heat and humidity. "Volunteering taught me to really love one another and treat others with respect," notes Willis.
He credits the communication skills honed in his nursing classes for helping him become a better Sunday school teacher for a group of 14-15-year-olds. He explains, one of our obligations as a nurse is to teach patients about their healthcare. My NPC instructors have helped me learn how to ask open-ended questions that make a patient open up and express themselves. That skill has helped me to be a better communicator with the youth, to be someone for them when they have issues, questions, or any other problem in their life.
Being an example to his young son is what motivates Willis to finish nursing school. "I want my son to grow up and look at me and be proud of who I am and what I have done in my life."
– – – N P C — Expanding Minds • Transforming Lives – – –