By Dennis Durband
NPC Marketing Staff Writer
In an unprecedented breakout year, Northland Pioneer College Cosmetology students won two medals and three others finished in the top five of their respective divisions at the SkillsUSA National Leadership and Skills Conference competition in Louisville, Ky., June 25-29.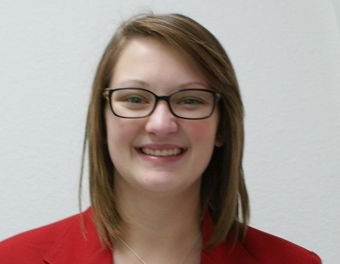 Kylie Peck, from Taylor, won the second gold medal in national competition in NPC history, in the Employment Application Process competition. She is one of just two Arizona community college students winning gold at nationals this year.
NPC's second medalist is Lovina Anderson, from Saint Johns, one of just five Arizona community college students winning a silver medal this year. She placed second in Job Interview competition. Janet Lann, also from Saint Johns, placed fourth in Job Demo A. Earning fifth-place honors were Skylar McCabe-Hughes, of Lakeside, in Job Demo A; and Shyanne Plumb, of Show Low, in Job Demo Open.
Frank Pinnell, NPC's coordinator for SkillsUSA competitions, said, "NPC had an unprecedented year at SkillsUSA Nationals in 2018, with many of the 12 students placing in the top five and our first gold medal in more than 10 years."
Peck said she didn't think a gold medal was a possibility, but it just confirmed for her that hard work and resilience pay off. "I worked four years for this goal, and it made me realize that with hard work and determination anything can be possible. It opened my eyes up to my abilities and made me realize I should always go big." She received a lot of preparatory help from NPC faculty and staff.
Cosmetology faculty Julie Peck, Kylie's mother, helped her prepare for the state competition in the spring, when she won gold and qualified for nationals. John Spadaccini, NPC coordinator of Career Services, "played a huge part in preparing me as well. He spent so much time making me into the best competitor as he possibly could." Oona Hatch, faculty in Cosmetology, "went over my portfolio and made sure it looked good and helped me with any grammatical issues." Welding faculty Randall Hoskins, adjunct faculty Cyli Geisler and William Tomkinson were also highly instrumental in Peck's success.
Peck, who previously studied Welding at NPC, will finish her Cosmetology education in October. She says NPC and SkillsUSA "have taught me responsibility, preparation and determination. I feel skilled and ready to enter the work force." Observers agree. During the SkillsUSA national competition, an employer from Hawaii spoke with her about working as a welder at Pearl Harbor.
Eight additional NPC students in career and technical education fields competed at SkillsUSA's national championships. Among them are: Heidi Everett, of Snowflake, who placed 15th in Cosmetology; Grayson Begay, of Winslow, 20th in Welding; Matt Meade, of Show Low, 20th in Automotive; Jalen Brady, of Winslow, 21st in Carpentry; and the team of Jeron Chatter, Emily Arthur and Tyler Long, all from Winslow, who placed 35th in Welding Fabrication.
SkillsUSA is a partnership of students, teachers and industry working together to ensure America has a skilled workforce. SkillsUSA helps students excel by providing educational programs, events and competitions that support career and technical education in the nation's classrooms. State champions from 50 states and two territories competed in national competition.
– – – N P C – Expanding Minds • Transforming Lives – – –