NPC offers guitar classes for all ages in Show Low
Have fun acquiring a basic understanding of music while learning to play a most delightful musical instrument – the guitar – in noncredit Northland Pioneer College classes in Show Low starting in June.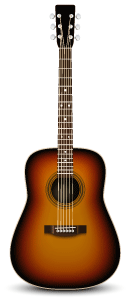 Whether a summer activity for youth ages 6 to 16, or adults wanting to expand their musical knowledge, Dennis Kemp's Basic Music and Guitar classes meet for 16 sessions on Mondays and Thursdays, from 4 to 5:30 p.m., June 4 through July 26 (reference MUS 099x-03) for just $100.
Kemp is also offering a Kids College Basic Music and Guitar class, restricted to 6- to 14-year-olds, on Monday and Thursdays, June 4 through July 12, from 1 to 4 p.m., also for $100.
Students must provide their own guitar. Kemp offers an optional, almost new, acoustic guitar rental for a separate $35 fee, which can be applied toward the purchase of the instrument. For details, call (602) 295-9977.
Instructor Dennis Kemp is a multiple genre guitarist, from Bluegrass to Rock & Roll, Country Western to Mariachi. As a teen, he started his own rock & roll garage band, The Playboys, performing throughout his native Minnesota. More recently he played with Strings & Things, based at the Happy Trails Resort in Surprise, AZ, and at the annual international Mariachi Festivals in Rosarito, Mexico.
Sign up for either of the Basic Music and Guitar classes at least four days before the class starts to ensure it is not canceled due to insufficient enrollment. Register at any NPC location during regular business hours, 8 a.m. to 5 p.m. Monday through Thursday, or 8 a.m. to 4 p.m. on Fridays, or online from the Register Now link on www.npc.edu/noncredit-classes.
NPC's Community and Corporate Learning Division provides personal interest and specialized corporate training throughout NPC's service area. For more information about noncredit, personal interest classes, contact Katie Olsen, the community and corporate learning specialist, (800) 266-7845, ext. 6244, email, or visit www.npc.edu/noncredit-classes. For corporate training, contact Royce Kincanon, community and corporate learning coordinator, (800) 266-7845, ext. 6239, or email.
– – – N P C — Expanding Minds • Transforming Lives – – –