A fun day on the Silver Creek Golf Course in one of the season's first tournaments will provide much-needed scholarships to Northland Pioneer College students. The nonprofit NPC Friends & Family organization sponsored the annual scholarship tournament on Saturday, April 28.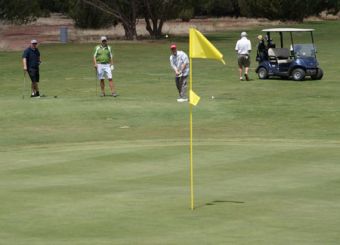 The foursome of Rick Burrows, Von Stradling, Tyler Shelly and Christian Lee carded a 56 to finish in first place. Just one stroke back was the team of Mike Jones, Kim Belknap, Chris Waters and Jesse DeWitt. Finishing in third with a 62 were Gregory Osborne, Chris Kakavas, Stephen Woudenberg and Darrel Newman. The top finishers received certificates for rounds of golf at some of the state's premier courses.
Closest to the Pin on #7 went to Mark Johnson; while Kyle Landrum was closest on #13. Tyler Shelly recorded the longest drive on #10. Each received prizes donated by local businesses.
"On behalf of all NPC students, I want to thank all of the golfers who competed in this year's tournament," said Betsyann  Wilson, executive director of NPC Friends & Family. "Your participation provides the extra funds students need to reach their educational goals."
Wilson also thanked major sponsors Summit Healthcare Regional Medical Center, Aspen Properties, Waste Management and hole-in-one car sponsor Horne Auto Center plus the NPC staff members who donated their time to help at the event.
"This year we partnered with Dixon Golf, who gave four golfers a chance to win $10,000 for themselves and a matching grant to NPC Friends & Family. Unfortunately, the gusty winds didn't cooperate and no one hit the jackpot. But Frank Barela, Lee Hale, Stephen Woudenberg and Mark Howard each received a certificate for a $60 belt buckle. Howard also won the Dixon Legend Challenge, choosing between a $349 Aurelius driver or $500 Zovatti watch," added Wilson.
Wilson extended a special thanks to area businesses, including The Hub, Red Devil Pizza, White Mountain Donuts, PersNIKKIty's Café and Bakery, Licano's and The Pizza Factory for donating prizes to the player's raffle.
"I deeply appreciate the support of our small businesses. This has been a tough year for them, with little snow, and now looking at a bad fire season. The impact on tourism really impacts them, and yet they stepped up to help us to help our students. Their community spirit is truly inspiring," concluded Wilson.
Photos from the event can be viewed and downloaded from flickr.com/photos/npcedu/albums.
All donations to NPC Friends and Family, a 501 (c) (3) organization, are tax deductible. NPC Friends & Family is organized exclusively to support the mission and goals of Northland Pioneer College through advancement of college programs and services, establishment and growth of student scholarships and positive promotion of NPC. For more information about fundraising events or creating or donating to a scholarship, please contact Betsyann Wilson at (928) 536-6245, email, or consider making a gift today by visiting their website.