Northland Pioneer College celebrates its 44th Commencement on Saturday, May 12, at the Show Low School District Auditorium, 500 W. Old Linden Road. Admission to the ceremony, which begins at 1 p.m., is restricted to individuals with reserved seat tickets. Doors to the auditorium open at Noon.
This year, the ceremony will be streamed live on facebook.com/NorthlandPioneerCollege.
This year 620 students have applied for associate degrees, certificates of applied science and certificates of proficiency. Participating in the Commencement ceremony will be 146 graduates with 122 associate degrees, 45 certificates of applied science and 17 certificates of proficiency. Actual degrees and certificates will be conferred upon verification of final grades and credits.
Welcoming guests to the ceremony in the predominate languages within the NPC district will be Lance Quotskuyva, Hopi; Merceidez Fabok, Spanish; Carolyn Havier, Apache; Genia James, Navajo; and Maria Danicas Lobaton, English.
Dr. Jonathan Cassie, Director of Innovation at TVT Community Day School in Irvine, Calif., is the guest speaker for this year's ceremony.
Five outstanding graduates will also be addressing their peers during the ceremony. Madison St. Hilaire, of Concho, is the top Associate of Arts graduate. Cuitlahuac Aguilar, of Show Low, will represent the Associate of Business recipients. Merceidez Fabok, of Pinedale, is the top Associate of Science graduate. Marletha Baloo, of Joseph City, will represent the Associate of General Studies students. Pamela Dominguez, of Snowflake, is the top Associate of Applied Science graduate.
Guests and the graduates are invited to a President's Reception immediately following the ceremony.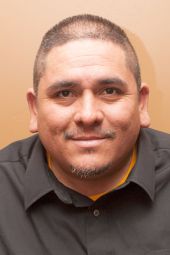 "It's never too late to attend college because it is never too late to accomplish something that's worthwhile," says Cuitlahuac "Cuity" Aguilar, the Outstanding Graduate for the Associate of Business Degree. A first-generation college student, "Cuity" credits his younger sister, Elizabeth, for inspiring him to enroll in college and for fellow All-Arizona Academic Team member (and Outstanding Graduate) Madison St. Hilaire for pushing him to try even harder.
"A perfect 100-percent on an exam was no longer enough, I also had to get the extra credit question correct in order to compete with this brilliant student. I had the privilege of being her classmate in five courses," adds Cuity. In his first five semesters, he earned President's List distinction with a perfect 4.0 GPA. He is a member of Phi Theta Kappa Honor Society. As a single dad, he strives to be an example for his two daughters, 11th-grader Vanessa and seventh-grader Jessika.
Born in Phoenix, Aguilar attended Gila Bend High School for three years, but graduated from Agua Fria in Avondale. He will be using the All-Arizona Academic Team tuition waiver to earn his MBA from ASU. Aguilar suffers from a horrible physical disease called Ankylosing Spondylitis, an inflammatory disease that, over time, can cause some of the vertebrae in the spine to fuse. He has not allowed this physical disability to hold him back from re-organizing and serving as president of the Student Government Association. He was also the student representative on the NPC Presidential Search Team.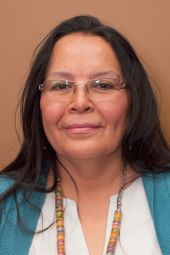 A first-generation college student, Marletha Baloo, the Outstanding Graduate for the Associate of General Studies Degree, can readily sympathize with students who come into NPC's Financial Aid Office, where she works as a specialist determining eligibility for federal Pell grants. She works full-time, has family obligations and overcomes the challenges of keeping up mentally with younger students.
"Everything in life is easier when you don't concern yourself with what everyone else is doing – keep your nose to the grindstone and carry on," says Baloo. "Embrace life's challenges and persevere because you will eventually succeed." Co-workers Beaulah Bob-Pennypacker, Kimberly Crossland, Jennifer Dobell and Todd Wilcox have encouraged her to pursue her educational goal of obtaining a master's degree in Social Work or Child Abuse Counseling. She plans to complete her bachelor's degree in social work at Northern Arizona University before transferring to the University of Arizona for her graduate studies.
Born in Winslow, Baloo grew up in Holbrook and attended Holbrook and Poplar (Montana) high schools. Together with her husband Raymond of 30 years they have raised five children – two have completed NPC's Nursing program; a third earned his Mechatronics degree from NPC; another is about to head off to electric lineman school after graduation from Joseph City High School; and the youngest is still at home and attending an online high school.
Baloo is a co-adviser for the NPC Eagle Club and volunteered to work at the Pedal the Petrified scholarship fundraiser. "I would love to spend more time outdoors," notes Baloo, who also enjoys reading and writing poetry.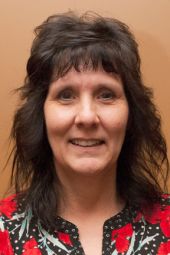 This is the second time Pamela Dominguez will be addressing her fellow graduates as the Outstanding Graduate for the Associate of Applied Science Degree. The first time was in 2010, when she completed her third NPC degree in Business – Public Administration. The previous year, she had completed her Accounting and General Business Management degrees. Since then, she also earned a degree in Modern Office Technology. Today, Dominguez will receive her fifth NPC Business AAS degree, this time in Entrepreneurship.
Born in Los Angeles, Dominguez earned a California High School Proficiency Test degree, the state's precursor to the GED. She added one year of a college language course to her educational résumé before becoming a mom. And you know how the story goes from there… four kids, one grandbaby, and 25 years later she realized that it might be a very smart idea to get more education.
"I felt I needed to be self-sufficient. I knew a better education would mean better opportunities for my family." While attending NPC she was homeschooling her two youngest children, Anthony who received a Welding degree from NPC, and Sovana, who completed the nursing prerequisites at NPC, before she too set aside her education to become a mom. It took some prodding from co-workers to convince Dominguez to finish her fifth degree. She was once again balancing her duties as the administrative assistant to the dean of Career & Technical Education with her studies and while caring for an ailing husband, who passed away two years ago. Dominguez quotes Carol Burnett, "Only I can change my life. No one can do it for me."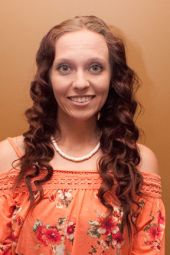 Putting school before fun has been a challenge for Merceidez Fabok, the Outstanding Graduate for the Associate of Science Degree. An NPC President's Scholar and PTK member, Fabok was also an honors student in Chemistry, Spanish and Calculus. She applies a quote from Pablo Picassso to her life – "Action is the foundational key to success."
She served as a work study student in the White Mountain Campus advisers' office, helped with fundraisers for the college, and combined her love for the outdoors with helping others by doing trail work and litter collection in her Pinedale neighborhood. Fabok's prep athletic career included multiple years on the basketball, softball, track and field and volleyball teams at Mogollon High School. As senior captain of the Mustang spikers, she played in 57 sets, recorded 140 kills and 33 serving aces. In three seasons on the varsity basketball team, she scored 754 points, including 186 three-pointers and recovered 239 rebounds. Her stats are equally impressive in softball as a utility infielder and track and field in the long jump and sprints for the Lady Mustangs, before graduating in 2016.
Fabok cites her parents as her greatest influence. "They supported and never gave up on me," notes Fabok. "They're great influences." She will be continuing her education at Alabama A&M University, with a career goal to become a wildlife biologist.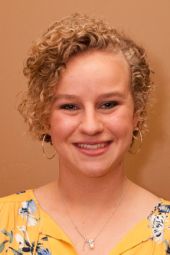 Transitioning from homeschooling to learning in a classroom setting with a different professor for each class was challenging. But didn't keep then high school senior Madison St. Hilaire, the Associate of Arts Outstanding Graduate, from soon building relationships with other students and instructors, creating an enjoyable learning atmosphere. "My mom has always been a big influence in my life," notes St. Hilaire. "She was my teacher from second-grade to my junior year of high school and her mentoring hasn't stopped. She has been my greatest influence and has encouraged me to push myself, while continually supporting me in my achievements."
A President's Scholar and recipient of multiple scholarships, St. Hilaire will utilize her All-Arizona Academic Team tuition waiver to pursue her Bachelor of Liberal Arts degree, with a Business minor, at Arizona State University in the fall. A singer for as long as she can remember, she frequently volunteers her talent by singing the National Anthem at numerous memorial and 9/11 remembrance ceremonies and with her full band at charity fundraisers. She has performed at several NPC events and in NPC performing arts productions.
Born in Roseville, California, this Concho resident worked with 20 other volunteers this past summer to give Pinetop's The Love Kitchen a complete facelift, both inside and out, to provide a more pleasant environment for those needing a warm meal or personal care items. She encourages local businesses to donate to local charity events and give back to the community they are serving. St. Hilaire enjoys functional ceramics, fiber arts, photography, cooking/nutrition and riding horses.
Northland Pioneer College serves the residents of Navajo and Apache counties through four regional campuses and five centers with a variety of educational options for academic, career and technical and personal enrichment. NPC supports each student's educational goals through affordable tuition, small class sizes and caring, professional instructors. For more information about NPC programs and services, call (800) 266-7845.
– – – N P C – Expanding Minds • Transforming Lives – – –
Candidates for Graduation
Actual degrees/certificates will be conferred upon verification of final grades and credits.
* denotes Grade Point Average of 3.5 to 3.8 – Graduating with Distinction
** denotes Grade Point Average of 3.9 to 4.0 – Graduating with High Distinction
‡ denotes Phi Theta Kappa – International Honor Society
§ denotes All – Arizona Academic Team
Alpine
Jarret Jensen: Certificate of Proficiency Paramedicine
Buckeye
Brody Greg Obray: Certificate of Applied Science Industrial Maintenance & Operations – Industrial Plant Operations *
Chinle
Sherone Benson Yazzie: Certificate of Proficiency Welding Level I
Certificate of Proficiency Welding Level II
Clay Springs
Jessica Adrianna Del Angel: Certificate of Proficiency Business – Entrepreneurship Fundamentals
Laura Miljkovic Stuart: Associate of Arts ‡ *
Certificate of Applied Science Practical Nursing *
Concho
William Bender: Associate of Science
Megan Marie Gray: Certificate of Proficiency Cosmetology
Tirzah Harumi Jessop: Associate of Arts-Elementary Education ‡ * §
Anna Maxwell: Associate of Science **
Josiah Levi Maxwell: Associate of Applied Science Welding *
Certificate of Applied Science Welding *
Certificate of Proficiency Gas Metal ARC Welding
Certificate of Proficiency Shielded Metal ARC Welding
Jarrod Nicholas Padilla: Associate of Applied Science Welding *
Certificate of Applied Science Welding *
Certificate of Proficiency Welding Level III
Shyanne E. Sadlier: Certificate of Proficiency Computer Information Systems – Commercial Graphics Fundamentals
Madison St. Hilaire: Associate of Arts ** §
Kaytlyn Rose Wallace: Associate of Arts-Elementary Education ‡ *
Samantha Marie Weller: Certificate of Proficiency Welding Level I
Certificate of Proficiency Welding Level II
Dennehotso
Samantha Renee Harrison: Associate of Arts-Elementary Education
Duncan
Karen Lee Vaughn: Associate of Applied Science Nursing *
Eagar
Markas William Charels Adams: Certificate of Proficiency Welding Level III
Elijah David Ballard: Certificate of Proficiency Welding Level III
Joshua A. Bockus: Certificate of Proficiency Industrial Maintenance & Operations – Industrial Plant Operations
Certificate of Proficiency Industrial Maintenance & Operations – Operations & Maintenance
Tyler Martin Botts: Certificate of Proficiency Welding Level III
Bradley K. Brown: Certificate of Proficiency Welding Level III
Nathaniel Tucker Davis: Certificate of Proficiency Welding Level I
Certificate of Proficiency Welding Level II
Antony Earl: Associate of Applied Science Industrial Maintenance & Operations – Industrial Plant Operations *
Melissa Kaye Erhart: Certificate of Applied Science Practical Nursing *
Christopher Brady Finch: Certificate of Proficiency Industrial Maintenance & Operations – Industrial Plant Operations
Dustin Bryce Finch: Certificate of Proficiency Welding Level I
Certificate of Proficiency Welding Level II
Rulon Kenyon Finch: Certificate of Proficiency Industrial Maintenance & Operations – Industrial Plant Operations
Kaydon Bryce Gibbons: Certificate of Proficiency Industrial Maintenance & Operations – Industrial Plant Operations
Certificate of Proficiency Industrial Maintenance & Operations – Operations & Maintenance
Veronica Gonzalez: Certificate of Proficiency Cosmetology
Sadie Nikolle Goodman: Certificate of Proficiency Industrial Maintenance & Operations – Industrial Plant Operations
Porter W. Hamblin: Certificate of Proficiency Welding Level III
Willard Seth Hamblin: Certificate of Proficiency Industrial Maintenance & Operations – Industrial Plant Operations
Charles Ray Holliday: Certificate of Proficiency Welding Level I
Certificate of Proficiency Welding Level II
Casey Thomas Hyer: Certificate of Proficiency Welding Level I
Certificate of Proficiency Welding Level II
Colby Ryan Hyer: Certificate of Proficiency Welding Level III
Jacob Winslow McNeil: Certificate of Proficiency Fire Science Firefighter
Titan Brock Merrill: Certificate of Proficiency Industrial Maintenance & Operations – Industrial Plant Operations
Brandt Wayne Newby: Certificate of Proficiency Welding Level III
Jakob Ryan Palmer: Associate of Applied Science Welding
Certificate of Applied Science Welding *
David Edwin Pulsipher: Certificate of Applied Science Industrial Maintenance & Operation – Instrumentation *
Timothy Kaden Rasmussen: Certificate of Proficiency Welding Level III
Erika M. Slade: Certificate of Proficiency Cosmetology
Linda Torres: Certificate of Proficiency Cosmetology
Denae Turley: Certificate of Applied Science Industrial Maintenance & Operations – Industrial Plant Operations
Fallon Emily Walker: Certificate of Proficiency Cosmetology
Flagstaff
Heather Junean Battaglia: Associate of Applied Science Nursing
Sydney Gear: Associate of Applied Science Nursing
Nikki Lee Gould: Associate of Applied Science Nursing
Melissa Hakes: Certificate of Applied Science Practical Nursing
Lynneya Isaac: Certificate of Applied Science Practical Nursing
Ramona Lynn Langham: Certificate of Applied Science Practical Nursing
Samantha Noel Pieper: Associate of Applied Science Nursing
Kelsey Brooke Pinneo: Certificate of Applied Science Practical Nursing
Jessica Reinoso: Certificate of Applied Science Practical Nursing
Renee Reyes: Associate of Applied Science Nursing *
Araceli Leija Rivera: Associate of Applied Science Nursing
Ashleigh Lynn Turley: Certificate of Applied Science Practical Nursing
Katherine Jean Welsh: Associate of Applied Science Nursing
Tara A. Wilson Associate of Applied Science Nursing
Fort Apache
Evelyn Preston Armstrong: Certificate of Proficiency Early Childhood Development – Preschool
Ferminia Katherine Armstrong: Certificate of Proficiency Business – Entrepreneurship Fundamentals
Taryn Kyla Beatty: Certificate of Proficiency Business – Entrepreneurship Fundamentals
Raekwon Jordan Cosay: Certificate of Proficiency Early Childhood Development – Early Childhood Studies
Tanisha Jayne Cosay: Certificate of Proficiency Business – Entrepreneurship Fundamentals
Jj Jaedan Windy Cosen-Garcia: Certificate of Proficiency Computer Information Systems – Commercial Graphics Fundamentals
Jennah Emily DeClay: Certificate of Proficiency Business – Entrepreneurship Fundamentals
Lenea M. DeClay: Associate of Arts
Rosel Sharnell Ethelbah: Certificate of Proficiency Early Childhood Development – Early Childhood Studies
Elise C. Goklish: Certificate of Proficiency Computer Information Systems – Commercial Graphics Fundamentals
Victoria Lynne Graham: Certificate of Proficiency Cosmetology
Ethan Tyler Gushoney: Certificate of Proficiency Early Childhood Development – Early Childhood Studies
Iry Nova Larzelere: Certificate of Proficiency Business – Entrepreneurship Fundamentals
Kobe L. Massey: Certificate of Proficiency Early Childhood Development – Early Childhood Studies
Catherine Joann Nubbe: Associate of Arts-Elementary Education *
Terrlynn S. Pusher: Associate of Applied Science Nursing
Charmayne Tia Quintero: Associate of General Studies
Inez Unique Sprengeler: Certificate of Proficiency Business – Entrepreneurship Fundamentals
Janalee Shayna Tate: Certificate of Proficiency Business – Entrepreneurship Fundamentals
Dakota Hunter Taylor: Certificate of Proficiency Early Childhood Development – Early Childhood Studies
Jah'Nay Velasquez: Certificate of Proficiency Business – Entrepreneurship Fundamentals
Certificate of Proficiency Early Childhood Development – Early Childhood Studies
Fort Defiance
Carol J. Davis: Certificate of Proficiency Early Childhood Development – Preschool
Ganado
Sanchez Gomez Begay: Certificate of Proficiency Welding Level I
Certificate of Proficiency Welding Level II
Jared Edgar Salabiye Bitah: Certificate of Proficiency Welding Level III
Letha Maria Sangster: Associate of General Studies
Cherish Alison Seaton: Associate of Applied Science Nursing ‡
Hazel L. Wilson: Associate of Applied Science Early Childhood Development – Family Child Care
Certificate of Applied Science Early Childhood Development – Family Child Care
Certificate of Proficiency Early Childhood Development – Family Child Care
Glendale
Robert Millett: Certificate of Proficiency Industrial Maintenance & Operations – Industrial Plant Operations
Heber
Christopher Leo Buckley: Certificate of Proficiency Welding Level III
Jessica Lynn Despain: Associate of Applied Science Nursing
Seth Alton Despain: Certificate of Proficiency Welding Level III
Damien Lee Jones: Certificate of Proficiency Automotive Technology – Electrical & Electronics Systems
Certificate of Proficiency Automotive Technology – Engine Repair
Liam Drake MacVane: Associate of Arts
Melody Lee Whipple: Associate of Arts
Holbrook
Karli J. Barela: Associate of Applied Science Nursing *
Adrian Benally: Associate of Applied Science Welding *
Zelimir Bogdanovic: Associate of Applied Science Computer Information Systems *
Certificate of Applied Science Computer Information Systems *
Brett Buckley: Certificate of Proficiency Welding Level I
Certificate of Proficiency Welding Level II
Dakota C. Chee: Associate of Arts
Melissa A. Chee: Certificate of Proficiency Nursing Assistant
Juwan Kris Cummings: Associate of Applied Science Welding
Ashley A. Demaria: Associate of Arts *
Cecilia Odalys Enriquez Torres: Certificate of Proficiency Cosmetology
Samantha Grace Fitzgerald: Associate of Applied Science Mechatronics – Industrial Electrical, Motors and PLCs ‡ *
Raymus Franklin: Associate of Applied Science Mechatronics – Industrial Electrical, Motors and PLCs
Tanisha Marie Gamez: Associate of Arts
Eric James Gene: Certificate of Proficiency Welding Level I
Certificate of Proficiency Welding Level II
Alexander C. Haussman: Certificate of Proficiency Automotive Technology – Electrical & Electronics Systems
Certificate of Proficiency Automotive Technology – Engine Repair
Barbara Jean Hawkins: Associate of Applied Science Nursing ‡ *
Loucinda Alisa Jensen: Associate of Applied Science Business – Medical Office Technologies
Kenya Tyler Jones: Associate of Applied Science Nursing
Ryan Tyler Keyonnie: Associate of Science
Michaela Jordan Lee: Associate of Arts
Lori Michelle Moore: Certificate of Proficiency Business – Management and Leadership Fundamentals
Laprincya Roxanne Nelson: Associate of Applied Science Cosmetology
Michael M. Queiruga: Certificate of Proficiency Welding Level III
Kelli N. Sample: Associate of General Studies
Anthony C. Sanchez: Associate of Applied Science Mechatronics ‡ *
Gabriel Santibanez: Certificate of Proficiency Mechatronics – Industrial Electrical, Motors and PLCs
Certificate of Proficiency Mechatronics – Industrial Mechanics and Fluid Power
Cheyanne Leigh Tahy: Certificate of Proficiency Cosmetology
Frankie Filameno Ulibarri: Certificate of Proficiency Welding Level III
Tamara Wilson: Certificate of Applied Science Practical Nursing
Rebecca Lynn Yazzie: Associate of Applied Science Welding
Reyna Zimmerman: Associate of Applied Science Nursing
Hotevilla
Lance Wayne Quotskuyva: Associate of Arts
Erica J. Tewa: Associate of Arts
Indian Wells
Orasheila G. Altsisi: Certificate of Proficiency Welding Level III
Jonathan Evans: Certificate of Proficiency Mechatronics – Industrial Electrical, Motors and PLCs
Certificate of Proficiency Mechatronics – Industrial Mechanics and Fluid Power
Cody Michael Keyonnie: Certificate of Proficiency Welding Level III
Tyian Sonny Lee: Certificate of Proficiency Welding Level I
Certificate of Proficiency Welding Level II
Dorraine Stacey Lester: Associate of General Studies
Martino Trina Tom: Associate of Applied Science Medical Assistant
Joseph City
Marletha Ann Baloo: Associate of General Studies
Kennan Lyle Begay: Associate of Applied Science Mechatronics *
Joseph Christopher Burt: Certificate of Applied Science Industrial Maintenance & Operations – Industrial Plant Operations **
Certificate of Applied Science Industrial Maintenance & Operations – Operations & Maintenance **
Certificate of Proficiency Industrial Maintenance & Operations – Industrial Plant Operations
Certificate of Proficiency Industrial Maintenance & Operations – Operations & Maintenance
Joey Hunter Lee Cundiff: Associate of Applied Science Construction Technology
Joshua Earl Fisher: Certificate of Proficiency Fire Science Firefighter
Dolores McGraw: Certificate of Applied Science Business – Accounting
Payton Nichol Tanner: Certificate of Applied Science Practical Nursing
Emma Louise Wouters: Associate of Applied Science Nursing
Kaibeto
Shelia Tsinnijinnie: Certificate of Applied Science Human Services –Residential Child/Youth Care Assistant **
Kayenta
Keshia Summer Crank: Associate of Applied Science Early Childhood Development – Infant/Toddler
Brooke Dayzie: Associate of General Studies
Lora N. Jackson: Associate of Applied Science Business – Modern Office Technologies
Ronada C. Salt: Associate of Arts – Elementary Education
Helena Lynn Smith: Associate of Arts
Certificate of Proficiency Nursing Assistant
Kedale Jevon Smith: Associate of Arts – Elementary Education
Keams Canyon
Madison Kennedy Begay: Certificate of Proficiency Industrial Maintenance & Operations – Industrial Plant Operations
Certificate of Proficiency Industrial Maintenance & Operations – Operations & Maintenance
Alissa Rose Charley: Associate of Applied Science Business – Management and Leadership *
Kevin J. Jimmy: Associate of Applied Science Automotive Technology *
Anthony Kaye: Certificate of Proficiency Welding Level I
Certificate of Proficiency Welding Level II
Kykotsmovi
Teresa Jean Harvey: Certificate of Proficiency Early Childhood Development – Preschool
Lakeside
Garret Agan: Certificate of Proficiency Welding Level I
Certificate of Proficiency Welding Level II
Jennifer Sue Antonelli: Associate of Applied Science Early Childhood Development – Preschool *
Certificate of Applied Science Early Childhood Development – Preschool *
Certificate of Proficiency Early Childhood Development – Preschool
Meghan Elizabeth Berlin: Associate of Applied Science Nursing ‡ *
Daniel Owen Brackney: Certificate of Proficiency Welding Level I
Isaac William Brewer Associate of Applied Science Welding
Certificate of Applied Science Welding
Certificate of Proficiency Welding Level III
Xavon Micheal Ray Brooks: Certificate of Proficiency Business – Entrepreneurship Fundamentals
Theresa Marie Burris: Certificate of Applied Science Practical Nursing ‡ *
Alexis Butler: Associate of Arts ‡ *
Monica Carrasco: Certificate of Proficiency Cosmetology
Nancy Coto: Certificate of Proficiency Computer Information Systems – Commercial Graphics Fundamentals
Christian J. Cunningham: Certificate of Proficiency Automotive Technology – Brake & Transmission Systems
Certificate of Proficiency Automotive Technology – Drive Train, Suspension & Steering, HVAC
Certificate of Proficiency Automotive Technology – Engine Performance
Amelia Tyrene Daugherty: Certificate of Proficiency Automotive Technology – Electrical & Electronics Systems
Certificate of Proficiency Automotive Technology – Engine Repair
Clinton John Dobrinski: Associate of Applied Science Industrial Maintenance & Operations – Industrial Plant Operations *
Kayla Renee Downs: Certificate of Applied Science Practical Nursing ‡
Chase Benjamin Esparza: Certificate of Proficiency Welding Level I
Certificate of Proficiency Welding Level II
Colby Benjamin Fairchild: Certificate of Proficiency Welding Level I
Certificate of Proficiency Welding Level II
Owen Parker Fousel: Certificate of Proficiency Welding Level I
Certificate of Proficiency Welding Level II
Giselle Fuentes-Campos: Certificate of Proficiency Computer Information Systems – Commercial Graphics Fundamentals
Ben Gardner: Certificate of Proficiency Computer Information Systems – Commercial Graphics Fundamentals
Jace Wade Gardner: Certificate of Proficiency Welding Level I
Certificate of Proficiency Welding Level II
Dan David Groeneveld: Associate of General Studies
Tanner Guthrie: Certificate of Proficiency Computer Information Systems – Commercial Graphics Fundamentals
Tyra June Holiday: Associate of Arts
Certificate of Proficiency Nursing Assistant
Cynthia L. Horneber: Certificate of Applied Science Practical Nursing ‡ **
Keren C. Horneber: Certificate of Proficiency Automotive Technology – Electrical & Electronics Systems ‡
Certificate of Proficiency Automotive Technology – Engine Repair
Hanna Hughes: Certificate of Proficiency Computer Information Systems – Commercial Graphics Fundamentals
Edie Wylenn Hunt: Associate of Applied Science Nursing
Lamson Jennings: Certificate of Proficiency Computer Information Systems – Commercial Graphics Fundamentals
Emily Jane Klimkiewicz: Certificate of Proficiency Fire Science Firefighter
Skylar McCabe-Hughes: Certificate of Proficiency Cosmetology
Sara Diane McCreery: Associate of Arts *
Gatlin Mealer: Certificate of Proficiency Computer Information Systems – Commercial Graphics Fundamentals
David Izaac Miller: Certificate of Proficiency Welding Level I
Certificate of Proficiency Welding Level II
Katelyn Marie Moul: Certificate of Proficiency Computer Information Systems-Commercial Graphics Fundamentals
Cameron Timothy Ortega: Certificate of Proficiency Welding Level I
Cameron Timothy Ortega Certificate of Proficiency Welding Level II
Adrian G. Pelagio: Certificate of Proficiency Computer Information Systems – Commercial Graphics Fundamentals
Blake Isaak Ridley: Certificate of Proficiency Welding Level I
Certificate of Proficiency Welding Level II
Calvin Aaron Rowell: Associate of Science
Alondra Salazar: Associate of Applied Science Nursing
Brandon Michael Savage: Certificate of Proficiency Automotive Technology – Brake & Transmission Systems
Certificate of Proficiency Automotive Technology – Drive Train, Suspension & Steering, HVAC
Certificate of Proficiency Automotive Technology – Engine Performance
Abigail Paige Schmidt: Certificate of Proficiency Automotive Technology – Brake & Transmission Systems
Certificate of Proficiency Automotive Technology – Drive Train, Suspension & Steering, HVAC
Certificate of Proficiency Automotive Technology – Engine Performance
Daniel Leonard Starkey: Associate of Applied Science Nursing ‡ *
Cary Jacob Wallace: Certificate of Proficiency Fire Science Firefighter
Lukachukai
Tonilessa Evilin Roberts: Associate of Applied Science Medical Assistant
Marana
Breanne Southwood: Associate of Applied Science Nursing
McNary
Amelia Baha: Certificate of Proficiency Early Childhood Development – Early Childhood Studies
Ashley Celaya: Certificate of Proficiency Computer Information Systems – Commercial Graphics Fundamentals
Caitlin M. Joe: Certificate of Proficiency Cosmetology
Patrice N. Siow: Certificate of Proficiency Computer Information Systems – Commercial Graphics Fundamentals
Alyssa Marlana Tate: Certificate of Proficiency Early Childhood Development – Early Childhood Studies
Kagen J. Truax: Certificate of Proficiency Computer Information Systems – Commercial Graphics Fundamentals
Mesa
Madison Lee Allen: Associate of Arts ‡ *
Jacob Greer: Certificate of Proficiency Industrial Maintenance & Operations – Industrial Plant Operations
Overgaard
Jacob Dell Chamberlain: Associate of Applied Science Nursing *
Kathryn Lynn Chamberlain: Associate of Applied Science Nursing **
Jeryn Davis Dowling: Certificate of Proficiency Welding Level III
Matt Joseph McCormick: Certificate of Proficiency Paramedicine
Christopher Gary Susag: Certificate of Applied Science Welding **
Certificate of Proficiency Welding Level III
Pinedale
Merceidez Fabok: Associate of Science ‡ **
Tyler James Feltman: Certificate of Proficiency Business – Entrepreneurship Fundamentals
Mitchell Cory Garvin: Certificate of Proficiency Welding Level III
Carl Scott Ramsay: Certificate of Proficiency Automotive Technology – Electrical & Electronics Systems
Certificate of Proficiency Automotive Technology – Engine Performance
Certificate of Proficiency Automotive Technology – Engine Repair
Pinetop
Taryn M. Baha: Associate of Business
Conner Barton: Certificate of Proficiency Welding Level III
Leef Brosemann: Certificate of Proficiency Computer Information Systems – Commercial Graphics Fundamentals
Giavanna Angelita Caruth: Certificate of Proficiency Computer Information Systems – Commercial Graphics Fundamentals
Bailey Davis: Certificate of Proficiency Fire Science Firefighter
Thomas Deming: Certificate of Proficiency Welding Level I
Certificate of Proficiency Welding Level II
Weston Dallas Dunsmore: Certificate of Proficiency Fire Science Firefighter
Dena Ell: Associate of Applied Science Nursing *
Ryan Endfield: Associate of Applied Science Automotive Technology
Angel Estrada: Certificate of Proficiency Welding Level III
Andrew Brace Evans: Certificate of Proficiency Automotive Technology – Electrical & Electronics Systems
Certificate of Proficiency Automotive Technology – Engine Repair
Hanna Raine Gray: Certificate of Proficiency Cosmetology
Yesenia Gutierrez: Certificate of Proficiency Computer Information Systems – Commercial Graphics Fundamentals
Kylie Marie Hoffman: Associate of Applied Science Business – Medical Office Technologies Fundamentals ‡ *
Jesus Martinez: Certificate of Proficiency Computer Information Systems – Commercial Graphics Fundamentals
Cassidy Arlene McClure: Associate of Arts
Certificate of Applied Science Practical Nursing
Karina Eloina Moore: Associate of Applied Science Business – Accounting ‡ *
Associate of Applied Science Business – Management and Leadership ‡ *
Jeremy Scott Paddock: Certificate of Proficiency Welding Level III
Derrick Patten: Associate of Applied Science Nursing ‡ **
Melissa Beatrice Patterson: Associate of Applied Science Nursing **
Juan Alejo Perez: Certificate of Proficiency Welding Level III
Joshua Martin Plath: Certificate of Proficiency Computer Information Systems – Commercial Graphics Fundamentals
Tracy Reidhead: Associate of Applied Science Cosmetology ** §
Anna J. Roman: Certificate of Applied Science Practical Nursing *
Charles E. Rose: Associate of Applied Science Nursing
Mason Joseph Van Zelf: Certificate of Proficiency Welding Level I
Certificate of Proficiency Welding Level II
Joycee Williams: Associate of Applied Science Early Childhood Development – Preschool
Pinon
Valentino D. Mose: Certificate of Proficiency Welding Level I
Polacca
Halli Sioux Lomayaktewa: Associate of Arts
Josh Harding Sidney: Associate of Arts
Trace Garret Thomas: Certificate of Proficiency Welding Level I
Certificate of Proficiency Welding Level II
Rock Point
Leatashelyn Black: Associate of Applied Science Early Childhood Development – Infant/Toddler **
Associate of Applied Science Early Childhood Development –Preschool **
Saint Johns
Gabrielle Lenna Nicol Archibald: Associate of Applied Science Medical Assistant
Certificate of Applied Science Medical Assistant
Micah Archibald: Certificate of Proficiency Automotive Technology – Electrical & Electronics Systems
Certificate of Proficiency Automotive Technology – Engine Repair
Stephen Daniel Baca: Certificate of Proficiency Industrial Maintenance & Operations – Industrial Plant Operations
Christina Elena Caballero: Associate of Applied Science Welding ‡
Certificate of Applied Science Welding ‡
Certificate of Proficiency Welding Level III
Merardo Castillo: Certificate of Proficiency Automotive Technology – Brake & Transmission Systems
Certificate of Proficiency Automotive Technology – Drive Train, Suspension & Steering, HVAC
Certificate of Proficiency Automotive Technology – Engine Performance
Anjelica Cuiriz: Certificate of Proficiency Welding Level I
Certificate of Proficiency Welding Level II
Dalton Victor Delor: Associate of Applied Science Welding *
Certificate of Applied Science Welding *
Certificate of Proficiency Welding Level III
Christopher James Denton: Certificate of Proficiency Industrial Maintenance & Operations – Industrial Plant Operations
Nicholas Flores: Certificate of Proficiency Welding Level III
Karin E. Hanson: Certificate of Applied Science Practical Nursing
Tailey Ann Hinton: Certificate of Proficiency Cosmetology
Johnathon Wesley Holden: Certificate of Proficiency Industrial Maintenance & Operations – Industrial Plant Operations
Certificate of Proficiency Industrial Maintenance & Operations – Operations & Maintenance
Cresencio Moses Jaramillo: Associate of Applied Science Welding
Certificate of Applied Science Welding
Certificate of Proficiency Welding Level III
Chase Stratton Jarvis: Certificate of Proficiency Welding Level I
Certificate of Proficiency Welding Level II
Daniel Richardo Jimenez: Certificate of Proficiency Welding Level I
Certificate of Proficiency Welding Level II
Bradley Charles Kirk: Certificate of Proficiency Paramedicine
Destiny Aldenisha Kirk: Associate of Arts ‡ *
Rosemary Pearl Lann: Associate of Applied Science Automotive Technology
Certificate of Applied Science Automotive Technology
Certificate of Proficiency Automotive Technology – Brake & Transmission Systems
Certificate of Proficiency Automotive Technology – Drive Train, Suspension & Steering, HVAC
Certificate of Proficiency Automotive Technology – Engine Performance
Tombie Cheyenne Lann: Certificate of Proficiency Cosmetology
Cherish Francene Lee: Associate of Applied Science Industrial Maintenance & Operations – Operations & Maintenance
Westin James Lee: Certificate of Proficiency Welding Level I
Certificate of Proficiency Welding Level II
Jordan Christopher Lunsford: Certificate of Proficiency Welding Level I
Certificate of Proficiency Welding Level II
Damien Michael Myers: Certificate of Proficiency Welding Level III
Kevin D. Price: Certificate of Proficiency Industrial Maintenance & Operations – Industrial Plant Operations
Travis Perry Price: Certificate of Proficiency Industrial Maintenance & Operations – Industrial Plant Operations
Joseph Rob Roy Ramsey: Certificate of Applied Science Industrial Maintenance & Operations – Industrial Plant Operations **
Certificate of Applied Science Industrial Maintenance & Operations – Operations & Maintenance **
Certificate of Proficiency Industrial Maintenance & Operations – Industrial Plant Operations
Certificate of Proficiency Industrial Maintenance & Operations – Operations & Maintenance
Rebecca Louise Richins: Associate of Applied Science Cosmetology *
Certificate of Applied Science Cosmetology *
Certificate of Proficiency Cosmetology
Majerle Ryan Salazar: Certificate of Proficiency Industrial Maintenance & Operations – Industrial Plant Operations
John Damian Shepard: Associate of Applied Science Industrial Maintenance & Operations – Industrial Plant Operations
Holly M. Wagoner: Certificate of Applied Science Practical Nursing ‡ **
Lydia Ann Waite: Associate of Applied Science Cosmetology *
Certificate of Applied Science Cosmetology *
Certificate of Proficiency Cosmetology
San Tan Valley
Christian Chavez: Associate of Applied Science Fire Science
Associate of Applied Science Paramedicine
Certificate of Applied Science Paramedicine
Sanders
Justin Richard Garcia: Associate of Applied Science Welding **
Leann A. Harry: Associate of Applied Science Medical Assistant *
Genia James: Associate of Business
Ryan Wayne Livingston: Certificate of Proficiency Welding Level I
Certificate of Proficiency Welding Level II
Jarvis G. Nez: Associate of Applied Science Welding
Ednei Eugene Yabeny: Certificate of Proficiency Welding Level I
Certificate of Proficiency Welding Level II
Second Mesa
Kellen Polingyumptewa: Associate of Arts
Show Low
Kirstyn Emily Adams: Certificate of Proficiency Business – Entrepreneurship Fundamentals
Tanner Ross Adams: Certificate of Proficiency Automotive Technology – Engine Performance
Cuitlahuac Aguilar: Associate of Arts ‡ ** §
Associate of Business ‡ ** §
Alexis Allred: Certificate of Proficiency Business – Entrepreneurship Fundamentals
Henry Bryan Burabod Antones: Associate of Arts *
Certificate of Applied Science Practical Nursing *
Alex Mandel John Arellano: Certificate of Proficiency Automotive Technology – Electrical & Electronics Systems
Certificate of Proficiency Automotive Technology – Engine Repair
David Albert Azbell: Certificate of Proficiency Automotive Technology – Electrical & Electronics Systems
Certificate of Proficiency Automotive Technology-Engine Repair
Jonathon Wayne Baird: Certificate of Proficiency Construction Technology
Cellianna Lynn Baldwin: Certificate of Proficiency Business – Entrepreneurship Fundamentals
James Charles Barkschat: Associate of Science *
Mark D. Bennett: Certificate of Proficiency Construction Technology
Tiffany Bess: Associate of Applied Science Nursing
Beau Michael Boucher: Certificate of Proficiency Business – Entrepreneurship Fundamentals
Nicole C. Brown: Certificate of Applied Science Practical Nursing
Rosalia Jaymes Burr: Associate of Applied Science Business – Entrepreneurship * §
Certificate of Applied Science Business – Entrepreneurship * §
Certificate of Proficiency Business – Entrepreneurship Fundamentals
Maddie J. Butler: Certificate of Proficiency Business – Entrepreneurship Fundamentals
James Callum Button: Associate of Arts
Rhiannon Stephanie Rose Cain: Associate of Arts *
Certificate of Applied Science Practical Nursing *
Benigna Calderon: Certificate of Proficiency Early Childhood Development – Family Child Care
Certificate of Proficiency Early Childhood Development – Preschool
Ivy Jai Calderon: Certificate of Proficiency Business – Entrepreneurship Fundamentals
Rachel Lauren Cavey: Certificate of Applied Science Practical Nursing
Gabriela Ashlie Chavez: Certificate of Proficiency Business – Entrepreneurship Fundamentals
Dallin Michael Clark: Associate of Science *
John Charles Clark: Associate of Science *
Taylor Michael Clark: Certificate of Proficiency Business – Entrepreneurship Fundamentals
Matthew Croft: Certificate of Applied Science Practical Nursing
David Craig Davis: Associate of Applied Science Fire Science
Certificate of Applied Science Fire Science
Rebecca Rose Estill: Certificate of Applied Science Practical Nursing ‡ **
Jennifer Anne Faurot: Associate of Applied Science Administrative Information Services – Medical Office Procedures
Certificate of Applied Science Administrative Information Services –Medical Office Procedures
Caitlin Brianne Finney: Certificate of Proficiency Business – Modern Office Technologies Fundamentals
Paula Kae Fish: Associate of Applied Science Cosmetology
Joseph Charles Foley: Certificate of Proficiency Construction Technology
Crystal Ann Forbes: Certificate of Proficiency Business – Entrepreneurship Fundamentals
Rod Cameron Genck: Associate of Applied Science Mechatronics – Industrial Electrical, Motors and PLCs
Certificate of Applied Science Mechatronics – Industrial Electrical, Motors and PLCs
Certificate of Proficiency Mechatronics – Industrial Electrical, Motors and PLCs
Ryan George: Certificate of Proficiency Fire Science Firefighter
Nyomie Gonzales: Associate of Applied Science Medical Assistant
Certificate of Applied Science Medical Assistant
Kaisey Maiselle Gray: Associate of Applied Science Welding *
Associate of General Studies *
Certificate of Applied Science Welding *
Certificate of Proficiency Welding Level III
Charity Diane Joy Hair: Associate of Arts
Certificate of Applied Science Practical Nursing
Richard Halcomb: Certificate of Proficiency Paramedicine
Brandon Clifford Hale: Certificate of Proficiency Fire Science Firefighter
Shelby Hall: Certificate of Applied Science Cosmetology **
Certificate of Proficiency Cosmetology
Seth R. Hamblin: Associate of Applied Science Welding *
Certificate of Applied Science Welding *
Certificate of Proficiency Welding Level III
Apollo Henderson: Certificate of Applied Science Paramedicine
Certificate of Proficiency Paramedicine
Aleeya A. Hess: Associate of Arts
Deven Allen Hoey: Certificate of Proficiency Business – Entrepreneurship Fundamentals
Rebecca Paige Holland: Certificate of Applied Science Practical Nursing
Breanna Dawn Jakary: Associate of Applied Science Business – Entrepreneurship **
Parker Ryan Jayne: Associate of Applied Science Fire Science
Seth Alan Jayne: Associate of Applied Science Paramedicine
Skyler G. Jayne: Associate of Applied Science Fire Science
Certificate of Applied Science Fire Science
Marcus Timothy Johnson: Associate of Applied Science Nursing
Martha Marie Kanteena: Associate of Arts ‡ *
Kelsey Leeann Kerr: Certificate of Proficiency Business – Entrepreneurship Fundamentals
Kyle Justin Koch: Certificate of Applied Science Practical Nursing
Layne Russell Leon Kotterman: Certificate of Proficiency Automotive Technology – Electrical & Electronics Systems
Certificate of Proficiency Automotive Technology – Engine Repair
Thomas James Kudlacz-Wilson: Certificate of Proficiency Business – Entrepreneurship Fundamentals
Darius Laddie Arthur Larson: Certificate of Proficiency Business – Entrepreneurship Fundamentals
Garrett Wayne Linn: Certificate of Proficiency Business – Entrepreneurship Fundamentals
Maria Danica Gz Abelon Lobaton: Associate of Applied Science Nursing ‡ **
Associate of Arts ‡ **
Antonio Luis Lopez: Associate of Applied Science Fire Science **
Certificate of Applied Science Fire Science **
Jessica Marie Lunt: Certificate of Applied Science Practical Nursing ‡ *
Eric M. Marburger: Certificate of Proficiency Business – Entrepreneurship Fundamentals
Lauren Olivia Mason: Associate of Applied Science Nursing ‡
Associate of Arts ‡
Eric John McConnell: Certificate of Proficiency Welding Level I
Certificate of Proficiency Welding Level II
Cameron A. McNeil: Certificate of Proficiency Welding Level I
Certificate of Proficiency Welding Level II
Alexander James McPeak: Certificate of Proficiency Business – Entrepreneurship Fundamentals
Brayden Jacob McPeak: Certificate of Proficiency Business – Entrepreneurship Fundamentals
Mattison Joseph Meade: Certificate of Proficiency Automotive Technology – Electrical & Electronics Systems
Certificate of Proficiency Automotive Technology –Brake & Transmission Systems
Certificate of Proficiency Automotive Technology – Engine Performance
Certificate of Proficiency Automotive Technology – Engine Repair
Cody James Meyers: Certificate of Proficiency Business – Entrepreneurship Fundamentals
Samantha Millsap: Certificate of Applied Science Medical Assistant
Brent W. Mix: Certificate of Applied Science Paramedicine *
James Morin: Associate of Applied Science Paramedicine
Certificate of Applied Science Paramedicine
Certificate of Proficiency Paramedicine
Curtis James Muncy: Certificate of Proficiency Welding Level III
Nicholas Munera: Certificate of Proficiency Fire Science Firefighter
Fernando J. Muro: Mendoza Certificate of Applied Science Practical Nursing ‡ *
Briana April Myers: Associate of Arts – Elementary Education
Samantha N. Neff: Certificate of Proficiency Automotive Technology – Electrical & Electronics Systems
Certificate of Proficiency Automotive Technology – Engine Repair
Bradley Orlowski: Certificate of Applied Science Practical Nursing
Molly K. Ottman: Associate of Arts – Elementary Education
Ladell Almon Owens: Associate of General Studies
Alexa Diana Palmer: Associate of Applied Science Nursing ‡ *
Nicole B. Parrack: Associate of Applied Science Paramedicine *
Tiffany Patterson: Associate of Applied Science Medical Assistant *
Certificate of Applied Science Medical Assistant *
Shyanne Renee Plumb: Certificate of Proficiency Cosmetology
Taylor K. Plumb: Certificate of Proficiency Welding Level I
Certificate of Proficiency Welding Level II
Maryann Courtland Popovich: Associate of Applied Science Nursing
Chloe Elizabeth Powers: Certificate of Proficiency Business – Entrepreneurship Fundamentals
Utah W. Reed: Certificate of Proficiency Welding Level I
Certificate of Proficiency Welding Level II
Jessica Michelle Reese: Certificate of Applied Science Practical Nursing
Cameron Dean Reid: Certificate of Proficiency Automotive Technology – Electrical & Electronics Systems
Certificate of Proficiency Automotive Technology – Engine Repair
Samantha L. Roberts: Certificate of Proficiency Business – Entrepreneurship Fundamentals
Tabitha Ann Simpson: Certificate of Proficiency Automotive Technology – Electrical & Electronics Systems
Certificate of Proficiency Automotive Technology – Engine Repair
Jacob Cade Smith: Associate of Science *
James Louis Sorabella: Certificate of Proficiency Computer Information Systems – Commercial Graphics Fundamentals
Delanie Ashton Stock: Certificate of Proficiency Cosmetology
Kathryn Josie Stock: Certificate of Proficiency Welding Level I
Certificate of Proficiency Welding Level II
Sabrina Haley Stock: Associate of Arts *
Certificate of Applied Science Practical Nursing *
Karolyn Thomas: Certificate of Applied Science Practical Nursing
Vanessa Noel Thompson: Associate of Applied Science Nursing *
Sloane Gabrielle Tipton: Certificate of Proficiency Business – Entrepreneurship Fundamentals
Ashley L. Tsatsafoulis: Associate of Applied Science Nursing
Julia Danielle Turney: Associate of Applied Science Business – Entrepreneurship
Certificate of Applied Science Business – Entrepreneurship
Certificate of Proficiency Business – Entrepreneurship Fundamentals
Christian Corey Velliquette: Certificate of Proficiency Automotive Technology – Electrical & Electronics Systems
Certificate of Proficiency Automotive Technology – Engine Repair
Quentin R. Webb: Certificate of Applied Science Paramedicine *
Certificate of Proficiency Paramedicine
Shy Unique Wheeler: Certificate of Proficiency Business – Entrepreneurship
Beverly White: Associate of Applied Science Medical Assistant
Certificate of Applied Science Medical Assistant
Julie Dawn White: Certificate of Proficiency Business – Entrepreneurship Fundamentals
Rachel Lynn Wienke: Certificate of Proficiency Cosmetology
Marcus N. Williams: Certificate of Proficiency Welding Level I
Certificate of Proficiency Welding Level II
Trenton Elliot Williams: Certificate of Proficiency Business – Entrepreneurship Fundamentals
Garrett David Winn: Certificate of Proficiency Fire Science Firefighter
Kiarra Siray Yazzie: Associate of Applied Science Cosmetology ‡ *
Certificate of Applied Science Cosmetology ‡ *
Shania Yost: Certificate of Proficiency Computer Information Systems – Commercial Graphics Fundamentals
Snowflake
Chelsey A. Anchondo: Associate of Arts-Elementary Education ‡ * §
Caleb Richard Aragon: Certificate of Proficiency Industrial Maintenance & Operations – Industrial Plant Operations
Kimberly Brimhall: Associate of Applied Science Cosmetology **
Certificate of Applied Science Cosmetology **
Robbie K. Brimhall: Associate of Applied Science Fire Science
Nathan Koltin Carpenter: Certificate of Proficiency Welding Level I
Certificate of Proficiency Welding Level II
Melia Rochelle Coleman: Associate of Applied Science Fire Science *
Sherawn Marie Dewitt: Associate of Applied Science Nursing ‡ **
Pamela A. Dominguez: Associate of Applied Science Business – Entrepreneurship ‡ **
Jeremy Scott Eich: Associate of Applied Science Industrial Maintenance & Operations – Industrial Plant Operations **
Certificate of Applied Science Industrial Maintenance & Operations – Industrial Plant Operations **
Certificate of Proficiency Industrial Maintenance & Operations – Industrial Plant Operations
Casey Eugene Esparza: Certificate of Proficiency Welding Level III
Brandon Robert Flake: Certificate of Proficiency Welding Level I
Certificate of Proficiency Welding Level II
Jessica Ann Flake: Certificate of Applied Science Practical Nursing **
Kimberly Janae Flake: Certificate of Proficiency Business – Medical Office Technologies Fundamentals
Regina Louise Foshee: Certificate of Applied Science Business – Medical Office Technologies **
Certificate of Proficiency Business – Medical Office Technologies Fundamentals
David Wayne Fusselman: Associate of General Studies *
William Lance Hancock: Associate of Applied Science Welding
Chad Ryan Johnson: Associate of Science
Julio Andres Juarez: Associate of Arts ‡ *
Karsten Dale Kemp: Associate of Applied Science Automotive Technology *
Certificate of Applied Science Automotive Technology *
Certificate of Proficiency Automotive Technology – Electrical & Electronics Systems
Certificate of Proficiency Automotive Technology – Brake & Transmission Systems
Certificate of Proficiency Automotive Technology – Drive Train, Suspension & Steering, HVAC
Certificate of Proficiency Automotive Technology – Engine Performance
Certificate of Proficiency Automotive Technology – Engine Repair
Alexis Lee: Certificate of Proficiency Automotive Technology – Electrical & Electronics Systems
Certificate of Proficiency Automotive Technology – Engine Repair
William Henry Lewis: Associate of Applied Science Welding
Taylor Mae McKinlay: Certificate of Applied Science Practical Nursing
Shelby Mitchell: Associate of Applied Science Cosmetology *
Certificate of Applied Science Cosmetology *
Certificate of Proficiency Cosmetology
Gabriella Rose Moffatt: Certificate of Proficiency Welding Level III
Alisha N. Montejano: Associate of Applied Science Nursing ‡ *
Dylan Montejano: Associate of Applied Science Welding
Certificate of Applied Science Welding
Certificate of Proficiency Welding Level III
Traysin Nathanual Neff: Certificate of Proficiency Business – Entrepreneurship Fundamentals
Rodgrick James Nez: Certificate of Proficiency Welding Level I
Certificate of Proficiency Welding Level II
Danielle Nezgoda: Certificate of Applied Science Practical Nursing ‡ *
Corwin Owen: Associate of Arts *
Alice Katie Pundt: Certificate of Applied Science Medical Assistant
Jaime Rafael: Certificate of Proficiency Industrial Maintenance & Operations – Industrial Plant Operations
Daniel Loial Reel: Certificate of Proficiency Welding Level III
Dalon L. Reidhead: Associate of Applied Science Welding *
Anthony Garrett Rumore: Certificate of Proficiency Automotive Technology – Electrical & Electronics Systems
Certificate of Proficiency Automotive Technology – Engine Repair
Savanna Rose Savage: Certificate of Applied Science Cosmetology *
Certificate of Proficiency Cosmetology
Alexis Shumway: Certificate of Proficiency Cosmetology
Christopher K. Stapley: Associate of Arts – Elementary Education
Tarrin Tanner: Associate of Applied Science Nursing
Jared Brian Tooley: Certificate of Proficiency Welding Level III
Addison Keri Webb: Certificate of Proficiency Cosmetology
Randy David Whirlow: Certificate of Proficiency Automotive Technology – Electrical & Electronics Systems
Certificate of Proficiency Automotive Technology – Engine Repair
Katharina Ann Marie Wiens: Associate of Science
Alexander Michael Williams: Certificate of Proficiency Automotive Technology – Electrical & Electronics Systems
Certificate of Proficiency Automotive Technology-Engine Repair
Springerville
Marcos Daniel Baca: Certificate of Proficiency Industrial Maintenance & Operations ­– Industrial Plant Operations
Sadee Rose Beeler: Certificate of Applied Science Practical Nursing
Elissa A. Benitez: Certificate of Applied Science Industrial Maintenance & Operations – Industrial Plant Operations
Bailey Marie Castillo: Certificate of Proficiency Cosmetology
Joseph Paul Gutierrez: Certificate of Proficiency Industrial Maintenance & Operations – Industrial Plant Operations
Samuel W. Gutierrez: Certificate of Proficiency Industrial Maintenance & Operations – Industrial Plant Operations
Draeden Ray Hill: Certificate of Proficiency Welding Level I
Certificate of Proficiency Welding Level II
Marilin Stacie Meadows: Certificate of Applied Science Practical Nursing *
Colter Brendan Muldoon: Certificate of Proficiency Welding Level I
Certificate of Proficiency Welding Level II
Madison Christina Storms: Associate of Applied Science Cosmetology *
Sun Valley
Brandon Paul Odell: Associate of Arts
Taylor
Jenny Ann Brown: Associate of Applied Science Nursing ‡ *
Dustin Robert Burgess: Certificate of Proficiency Welding Level I
Certificate of Proficiency Welding Level II
Justine Elizabeth Cluff: Associate of Applied Science Nursing
Kenly Quinn Crandell: Certificate of Proficiency Welding Level I
Certificate of Proficiency Welding Level II
Cooper Lynn Hancock: Certificate of Proficiency Welding Level I
Certificate of Proficiency Welding Level II
Rinda Jolene Hancock: Certificate of Applied Science Practical Nursing
Trace Robert Hancock: Associate of Applied Science Welding *
Certificate of Applied Science Welding *
Certificate of Proficiency Welding Level III
Amanda Louise Hatch: Associate of Arts ‡ ** §
Certificate of Applied Science Practical Nursing ‡ ** §
Joss Hensley: Certificate of Proficiency Automotive Technology – Electrical & Electronics Systems
Certificate of Proficiency Automotive Technology – Engine Repair
Briana Gail Hunt: Associate of Applied Science Nursing
Laura M. Kohler: Associate of Arts-Elementary Education *
David Michael Krouse: Associate of Applied Science Automotive Technology *
Certificate of Applied Science Automotive Technology *
Certificate of Proficiency Automotive Technology – Brake & Transmission Systems
Certificate of Proficiency Automotive Technology – Drive Train, Suspension & Steering, HVAC
Certificate of Proficiency Automotive Technology – Engine Performance
Jacquelyn Lawlor: Associate of Applied Science Nursing
Cody Alan Maennche: Certificate of Proficiency Automotive Technology – Brake & Transmission Systems
Certificate of Proficiency Automotive Technology – Drive Train, Suspension & Steering, HVAC
Certificate of Proficiency Automotive Technology – Engine Performance
Matthew Mauff: Associate of Applied Science Nursing
Arturo Munoz: Certificate of Proficiency Fire Science Firefighter
Ryan Kwade Nichols: Certificate of Proficiency Automotive Technology – Electrical & Electronics Systems
Certificate of Proficiency Automotive Technology – Engine Repair
Coy Lavell Owens: Certificate of Proficiency Automotive Technology – Electrical & Electronics Systems
Certificate of Proficiency Automotive Technology-Engine Repair
Kaycie Vera Palmer: Certificate of Proficiency Cosmetology
Trevon Quint Palmer: Certificate of Proficiency Welding Level I
Certificate of Proficiency Welding Level II
Jace Ronald Reidhead: Certificate of Proficiency Welding Level III
Shantay Lani Reidhead: Associate of Arts
Anjelica Rosales: Certificate of Applied Science Practical Nursing
Guy Allen Warner: Certificate of Proficiency Automotive Technology – Electrical & Electronics Systems
Certificate of Proficiency Automotive Technology-Engine Repair
Chase Nathaniel Williams: Certificate of Proficiency Automotive Technology – Electrical & Electronics Systems
Certificate of Proficiency Automotive Technology-Engine Repair
Thatcher
Lars Andrew Moore: Associate of Applied Science Nursing
Tuba City
Collin Morgan: Associate of Arts
Tucson
Tasha Marie Powell: Certificate of Applied Science Cosmetology
Certificate of Proficiency Cosmetology
Vernon
Katelyn Brandt: Certificate of Proficiency Cosmetology
Anthony Leon Currey: Certificate of Proficiency Construction Technology
Nickolas Haynes: Associate of Science ‡
Vanessa Marie Hernandez: Certificate of Proficiency Business – Entrepreneurship Fundamentals
Samuel Richard Scarratt: Certificate of Proficiency Business – Entrepreneurship Fundamentals
David Syler Westbrook: Certificate of Proficiency Welding Level I
Certificate of Proficiency Welding Level II
Devin Renee Zitar: Certificate of Proficiency Business – Entrepreneurship Fundamentals
White Mountain Lake
Monique Dawn Lewis: Associate of Arts – Early Childhood
Whiteriver
Rosella Altaha: Certificate of Proficiency Business – Entrepreneurship Fundamentals
Certificate of Proficiency Early Childhood Development – Early Childhood Studies
Chavon Jada Antonio: Certificate of Proficiency Early Childhood Development – Early Childhood Studies
Sheree Simona Arthur: Associate of Arts
Cierra Hannah Begay: Certificate of Proficiency Business – Entrepreneurship Fundamentals
Jody Burnette: Certificate of Proficiency Early Childhood Development – Infant/Toddler
Llory A. Burnette: Associate of Applied Science Paramedicine
Dana Rodney Cassadore: Associate of Applied Science Medical Assistant
Chasity Shimira Colelay: Certificate of Proficiency Early Childhood Development – Early Childhood Studies
Manuel Cooley: Certificate of Proficiency Fire Science Firefighter
Tony Dante Crocker: Certificate of Proficiency Early Childhood Development – Early Childhood Studies
Kyra Ranae Dahkoshay: Certificate of Proficiency Early Childhood Development – Early Childhood Studies
Jeron Jake Daley: Certificate of Proficiency Business – Entrepreneurship Fundamentals
Alon Martae DeClay: Certificate of Proficiency Business – Entrepreneurship Fundamentals
Certificate of Proficiency Early Childhood Development – Early Childhood Studies
Anastasia Angel DeClay: Certificate of Proficiency Early Childhood Development – Early Childhood Studies
Hansen DeClay: Associate of Applied Science Welding *
Certificate of Applied Science Welding *
Certificate of Proficiency Gas Metal ARC Welding
Certificate of Proficiency Gas Tungsten ARC Welding
Certificate of Proficiency Welding Level II
Certificate of Proficiency Welding Level III
Nina C. Edison: Associate of Applied Science Early Childhood Development – Preschool *
Sanchez Xavier Garcia: Certificate of Proficiency Early Childhood Development – Early Childhood Studies
Blake Zachary Goklish: Certificate of Proficiency Early Childhood Development – Early Childhood Studies
Warren Goklish: Associate of Applied Science Fire Science
Ilawna Faith Gordon: Certificate of Proficiency Early Childhood Development – Early Childhood Studies
Marcellus A. Grimes: Certificate of Proficiency Business – Entrepreneurship Fundamentals
Diayne Mable Harvey: Certificate of Proficiency Business – Entrepreneurship Fundamentals
Carolyn Havier: Certificate of Applied Science Business – Medical Office Technologies
Certificate of Proficiency Business – Medical Office Technologies Fundamentals
Arlanna Joniece Henry: Certificate of Proficiency Early Childhood Development – Early Childhood Studies
Elliana Jahnae Henry: Certificate of Proficiency Early Childhood Development – Early Childhood Studies
Ruth Cydnee Allison Johnson: Certificate of Proficiency Early Childhood Development – Early Childhood Studies
Velma S. Kaytoggy: Associate of Applied Science Early Childhood Development – Early Childhood Management
Marlena Moody Loley: Certificate of Proficiency Early Childhood Development – Infant/Toddler
Majerle Lilly Anne Lupe: Associate of Arts
Josenia Carlos Ngo: Associate of Applied Science Early Childhood Development – Preschool *
Tyrone Joshua Ngo: Associate of Applied Science Early Childhood Development – Preschool
Sarfina Selena Nosie: Certificate of Proficiency Early Childhood Development – Early Childhood Studies
Tristan Hope Nosie: Certificate of Proficiency Early Childhood Development – Early Childhood Studies
Maria Keauna Olivas: Certificate of Proficiency Early Childhood Development – Early Childhood Studies
Amanda Peteriece Paxson: Certificate of Proficiency Business – Entrepreneurship Fundamentals
Certificate of Proficiency Early Childhood Development – Early Childhood Studies
Cheridan Noel Riley: Certificate of Proficiency Early Childhood Development – Early Childhood Studies
Miramanee R. Riley: Associate of Science
Jessica Leah Roberts: Associate of General Studies
Alex Shash Rodriguez: Associate of Arts – Elementary Education
San Juan Conan Slick: Certificate of Proficiency Business – Entrepreneurship Fundamentals
Certificate of Proficiency Early Childhood Development – Early Childhood Studies
Jaymie Paige Smith: Certificate of Proficiency Business – Entrepreneurship Fundamentals
Certificate of Proficiency Early Childhood Development - Early Childhood Studies
Morgan Angel Smith: Associate of General Studies
Aaliyah Macias Susan: Associate of Arts
Felecia Renee Suttle: Certificate of Proficiency Business – Entrepreneurship Fundamentals
Leona Lena Tate: Certificate of Proficiency Business – Entrepreneurship Fundamentals
Certificate of Proficiency Early Childhood Development – Early Childhood Studies
Lilliah Alycen Truax: Certificate of Proficiency Early Childhood Development – Early Childhood Studies
Davin Hastings Yazzie: Certificate of Proficiency Business – Entrepreneurship Fundamentals
Window Rock
Natasha Jean Harvey: Associate of Applied Science Early Childhood Development – Preschool *
Danny Reese: Certificate of Proficiency Welding Level III
Winslow
Emily Renee Arthur: Certificate of Proficiency Welding Level III
Damon Angelo Avelar: Certificate of Proficiency Welding Level III
Angelica June Baca: Certificate of Applied Science Practical Nursing
Deirdre Dion Begay: Certificate of Applied Science Practical Nursing
Derek R. Begay: Certificate of Proficiency Welding Level I
Certificate of Proficiency Welding Level II
Grayson Begay: Certificate of Proficiency Welding Level III
Joshua Keedan Bert: Certificate of Proficiency Welding Level I
Certificate of Proficiency Welding Level II
Cody J. Bizardi: Associate of Arts
Joshua Allen Bolding: Associate of General Studies ‡
Jalen Wilbur Brady: Associate of Applied Science Construction Technology
Certificate of Applied Science Construction Technology
Belle Kaitlyn Charley: Certificate of Proficiency Welding Level I
Certificate of Proficiency Welding Level II
Bernice Mitchell Chatter: Associate of Arts – Elementary Education
Jeron Boyce Chatter: Certificate of Proficiency Welding Level III
Mariah Chelsea Cody: Certificate of Proficiency Nursing Assistant
Michael Joseph Densmore: Certificate of Proficiency Welding Level I
Certificate of Proficiency Welding Level II
Isaac Edison Fuson: Certificate of Proficiency Welding Level I
Certificate of Proficiency Welding Level II
Todd G. Gishie: Certificate of Proficiency Welding Level III
George H. Gould: Certificate of Proficiency Welding Level I
Moon Star Hart: Certificate of Applied Science Practical Nursing ‡
Zachary Richard Hartnett: Associate of Applied Science Welding *
Certificate of Applied Science Welding *
Jayden Howard Johns: Associate of Applied Science Construction Technology
Nathan King: Certificate of Proficiency Welding Level I
Certificate of Proficiency Welding Level II
Certificate of Proficiency Welding Level III
Kelafer Devon Kinlecheenie: Certificate of Applied Science Practical Nursing
Robyn Lynn Krise: Associate of Science * §
Roger Edward Lee: Associate of Applied Science Paramedicine
Latrell Obryant Long: Certificate of Proficiency Welding Level I
Certificate of Proficiency Welding Level II
Tyler Logan-O'Brian Long: Certificate of Proficiency Welding Level III
Jessica Sanchez Lowry: Associate of Applied Science Early Childhood Development – Preschool
Kendra Lane Marquez: Associate of Applied Science Nursing
Norman Monroe: Associate of Applied Science Business – Entrepreneurship
Certificate of Applied Science Business – Entrepreneurship
Tanibah Nez: Associate of Applied Science Cosmetology
Certificate of Applied Science Cosmetology
Victoria Nicole Romero: Associate of Applied Science Nursing ‡
Atalaya Alexa Segina: Certificate of Proficiency Early Childhood Development – Preschool
Nicole Briana Smith: Certificate of Applied Science Practical Nursing
Dashawn Deante Spencer: Certificate of Proficiency Welding Level I
Certificate of Proficiency Welding Level II
Chenoa Stacey: Associate of Science
Kyle Tunney: Certificate of Proficiency Welding Level II
Brandon Herbert Watts: Certificate of Applied Science Automotive Technology
Certificate of Proficiency Automotive Technology – Electrical & Electronics Systems
Certificate of Proficiency Automotive Technology – Brake & Transmission Systems
Certificate of Proficiency Automotive Technology – Drive Train, Suspension & Steering, HVAC
Certificate of Proficiency Automotive Technology – Engine Performance
Certificate of Proficiency Automotive Technology – Engine Repair
Allison Josephine Webb: Certificate of Proficiency Welding Level I
Certificate of Proficiency Welding Level II
Alec James Williams: Certificate of Proficiency Welding Level III
Hadley O. Wilson: Certificate of Proficiency Welding Level I
Certificate of Proficiency Welding Level II
Leah Marie Wischmann: Certificate of Applied Science Practical Nursing *
Adriano Chardavis Yazzie: Certificate of Proficiency Welding Level III
Cody Belone Yazzie: Certificate of Proficiency Welding Level I
Certificate of Proficiency Welding Level II
Christian Brenden Young: Associate of Applied Science Medical Assistant
Associate of Science
Woodruff
Jacob Garrett: Associate of Applied Science Nursing
Amarillo TX
William Charles Garrison: Associate of Applied Science Welding
Certificate of Proficiency Welding Level II
Oak Harbor WA
Jacob Patricio Stanle Orona: Associate of Applied Science Medical Assistant
– – – N P C – Expanding Minds • Transforming Lives – – –