FLAGSTAFF — Retiring Northland Pioneer College President Dr. Jeanne Swarthout will be honored as the 2018 Woman of the Year at this year's conference of Arizona Women in Higher Education, May 31 and June 1, at the High Country Conference Center in Flagstaff.
The honor recognizes her "leadership, innovation and service on behalf of the state's community colleges. Her advocacy and guidance have been essential to the success of many different initiatives benefiting community college students throughout the state.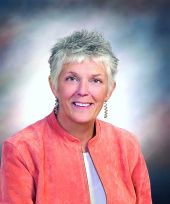 Dr. Swarthout is retiring at the end of June after serving since May 2007 as NPC's seventh and first female President. She had previously been the college's Dean of Liberal Arts and Vice President of Instruction/Learning since 2001. She had previously served in academic and leadership roles at New Mexico State University, Northern Arizona University, University of Phoenix, and Arizona State University. She is also one of the original Executive Board members for the Arizona Women in Higher Education (AWHE) network.
Raised in Phoenix, President Swarthout pursued a career in archaeology, working with the Museum of Northern Arizona, ASU and NMSU on multiple field studies in Arizona and the Southwest. She also had the opportunity to share her passion for lifelong learning, providing instruction in cultural anthropology and women's studies with the purpose of challenging stereotypical concepts and thinking utilizing technological innovation for course and program delivery.
Dr. Swarthout's work on the Shared Unique Numbering (SUN) system has had a crucial impact in support of students transferring from community colleges to universities in the state of Arizona. As co-chair of the Academic Program Articulation Steering Committee (now known as AZ Transfer) she brought about effective processes that were conceptualized and implemented to the benefit of students. All of this work provided opportunities for students across Arizona to continue their education through block credit transfers and pathways that would allow them to earn a bachelor's degree in a cost effective way. As Chair of the Arizona Community College Coordinating Council (AC4) Dr. Swarthout brought together a group of highly innovative and experienced community college CEOs to move the state forward in support of and advancement of the community college mission.
According to Mark Vest, NPC vice president for Learning and Student Services, Jeanne has devoted enormous time and energy to the twin issues of equity and quality in education. Her work as a Higher Learning Commission peer reviewer exemplifies her desire to improve education for all students at all levels of higher education. She has worked tirelessly to promote educational opportunities for underserved students and communities.
Maderia Ellison, NPC associate vice president/chief business officer, applauds her desire to create a sustainable financial future for community colleges by influencing many fiscal policies at the local and state level during her tenure as president of NPC. She spent over a year working on an ad hoc legislative committee to educate politicians and others on what the expenditure limit is, how it was restraining Arizona community colleges, and what needed to change. Her tireless commitment resulted in the passage of Senate Bill 1322 in 2016.
Dr. Debra McGinty, dean of Nursing and Allied Health, eloquently shared that "Jeanne Swarthout is an outstanding woman, leader, and luminary. She aspires to the highest standards and inspires others by her example. She is the embodiment of profound wisdom and still possesses a wonderfully rich sense of humor. She encourages shared governance yet also acts decisively when benefits, opportunities or threats are clearly evidenced. All can rely on her ethical comportment to consistently and carefully consider every facet and perspective when making a decision. She treats everyone she meets with respect and compassion – she is both anthropologist and nurse. Jeanne lights the way and you can be certain of a pleasant, insightful journey."
President Swarthout has continually served higher education on a regional and national level as well. Her leadership in the work of the Higher Learning Commission and Assessment of Student Learning has enhanced the understanding of accreditation and institutional effectiveness across the state. Through many seminars and workshops, she has helped colleges and individuals throughout Arizona have a clear understanding of how to demonstrate excellence in colleges and universities.
Dr. Colleen Smith, president of Coconino Community College, appreciates the hard work and dedication by stating, "most of all, Dr. Swarthout is known for always putting students first. Through her advocacy on the state and national level, she has been unwavering in her dedication to students. She is a force to be reckoned with in all things pertaining to equity and justice and I am proud to call her my friend and colleague in the world of education."
Finally, Dr. Swarthout not only serves the higher education community, but she currently serves her local communities: as board chair for the Friends of the Petrified Forest; on the Northeast Arizona Chapter Leadership Team for United Way of Northern Arizona; Arizona Commerce Authority Board; and is chair of the Arizona Community College Coordinating Council (AC4).
The annual AWHE conference is open to everyone interested in advancing women in higher education. The luncheon honoring Dr. Swarthout will be at noon on Friday, June 1.
AWHE is committed to improving the general climate and professional environment for women by identifying and developing leadership, advancing, and connecting and supporting women in higher education throughout the state.
– – – N P C — Expanding Minds • Transforming Lives – – –