With uncertainty of the state's contribution to operating expenses, the Navajo County Community College District Governing Board adopted a preliminary budget for the next fiscal year predicated on a maximum tax levy and conservative budgeting.
Formal adoption of the budget and tax levy will follow public hearings on Tuesday, May 15. The final budget can be reduced, but not increased from the preliminary figures presented during the public hearings. The preliminary budget is viewable on the college's website.
If the legislature approves the proposed state budget, NPC will receive less than 4 percent of its projected budget in state operating aid. NPC is anticipating $6,910,800 in state equalization aid to compensate for lower than average property valuations. NPC is one of three rural community college districts receiving equalization aid and has a primary property tax rate significantly lower than the other two equalization districts.
"Levying the maximum property tax levy demonstrates to the state legislature that Navajo County taxpayers are supporting their local college," explained Chief Business Officer Maderia Ellison. The preliminary budget also includes an increase in the cash reserve from six months to 12 months, to prepare for future downward adjustments in property valuations when APS shuts down the Cholla Power Generating Station in Joseph City.
The preliminary budget includes a 3.5 percent wage and salary increase for all contract and adjunct employees. Employees and administrators negotiated the compensation package in an effort to keep Northland Pioneer College competitive in hiring qualified faculty and staff.
The board also approved the preliminary capital budget for 2019 – 2021. The largest expenditures will go toward technology and maintaining college facilities, funded by a $2 million transfer from the general fund.
Public questions and comments about the budgets can be submitted online or during the public hearings on May 15.
The board also recognized four retiring employees with emeritus status.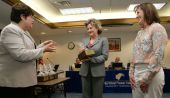 Tracy Chase taught business and computer science classes as an adjunct faculty member for 14 years before becoming a full-time faculty member in 2007.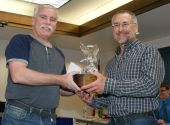 Geology instructor Randy Porch also started as an adjunct faculty member in 1988, before joining the full-time faculty in 1996.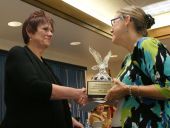 Vicki Bessinger was a part-time registration worker before she came to work full-time at NPC in 1996. She has worked in various capacities, most recently as the liaison with the college's online bookstore vendor.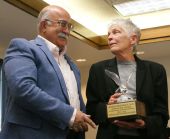 College President Dr. Jeanne Swarthout became NPC's dean of liberal arts in 2001; Vice President for Instruction/Learning Services in 2001; and the seventh president in 2007. "Wishing you all the best for all you have done for NPC with good leadership locally and at the state level," commented NPC Board Member Daniel Peaches, who has served since 1985.
Swarthout was also named the Woman of the Year by the Arizona Women in Higher Education (AWHE) network and will be honored at the group's annual conference in Flagstaff, May 31 and June 1. "It is an honor to work every day with a group of dedicated people who make this place work," added Swarthout. "Be very proud of what you do."
The board also accepted a $50,000 grant to work with Northern Arizona University to improve the English, mathematics and general college success of 100 students from Winslow and Holbrook high schools. Part of NAU's GEAR UP initiative to reduce the remediation needed by postsecondary students, the grant provides a two-week summer boot camp, additional tutoring and academic advising.
"Spring semester dual enrollment declined nearly 20 percent, in part due to the loss of local high school teachers who can be certified to teach dual enrollment courses for college credit," noted Mark Vest, vice president for Learning and Student Services. "Overall campus enrollment was up, as high school students both came to campus to take college coursework and participated in TALON courses through their local high schools."
As rural high schools struggle to hire and keep teachers who can also teach college-level courses, NPC is developing a different relationship with those districts through the grant-funded TALON project, that uses technology to have an NPC faculty member teach university transferable college courses to students in their high school. There are 14 schools currently involved in the TALON project.
The board also heard a report from Jennifer Bishop on the teaching and learning component of NPC's re-accreditation assurance argument. The report shows how NPC assesses student learning outcomes, demonstrates intellectual inquiry and supports effective learning. NPC is preparing for a Higher Learning Commission (HLC) accreditation site visit in November, 2019.
As part of the consent agenda, curriculum modifications in Cosmetology, Residential Child/Youth Care, Education, and Energy and Industrial Technician (EIT) were approved. The EIT program was created upon the recommendation of the industry advisory board, combining the Industrial Maintenance and Operations (IMO) and Mechatronics (MET) programs, which were deleted.
Betsyann Wilson, executive director of NPC Friends & Family, reported on Arizona Gives Day, which raised $30,985 for student scholarships. This will allow the awarding of 18 fall scholarships to students. The group's next fundraiser is the scholarship golf tournament is April 28 at the Silver Creek Golf Club.
Faculty Association President Pat Lopez thanked the board for the opportunity to be involved in college governance. Nearly a quarter of the college's full-time faculty are new to the institution, making it difficult to find experienced leadership for next year.
During her board report, President Swarthout thanked board member Derrick Leslie for attending the HLC's annual conference. "I had many questions answered, but there are more to come," he remarked.
Swarthout also reminded the public that packets are now available for those seeking election to the board. The term for Chair Frank Lucero, who represents District 3 (Holbrook and part of Winslow), expires at the end of December. "Has it really been six years already?" he said.
The next regularly-scheduled meeting will be Tuesday, May 15, at 10 a.m. in the Tiponi Community Center on the Holbrook – Painted Desert Campus, 2251 E. Navajo Blvd. Copies of the agenda will be posted online at least 24 hours in advance.
– – – N P C – Expanding Minds • Transforming Lives – – –