Jackson, Mississippi — Amanda Hatch, a first-year nursing student at Northland Pioneer College, has been named a 2018 Coca-Cola Academic Team Silver Scholar.
The Snowflake/Taylor resident is one of only 150 community college students nationwide selected for the Coca-Cola Academic Team program, sponsored by the Coca-Cola Scholars Foundation. As a silver medalist, she will receive a $1,250 scholarship.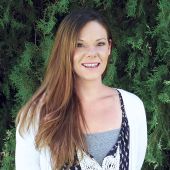 "This is a huge honor," said Hatch. "I look forward to attending the national conference and representing NPC. This award is more than I ever believed was possible when I began my educational journey. I am humbled, grateful and honored even to be considered."
President of NPC's Alpha Gamma Tau chapter of Phi Theta Kappa, the international honor society of two-year college students, Hatch will be recognized at PTK's annual convention, April 19-21, in Kansas City, Missouri.
Hatch is an All-Arizona Academic Team first team member, automatically making her eligible for the national competition. All-Arizona team members receive a tuition waiver from the Arizona Board of Regents to complete their bachelor's degree at one of the state's three public universities. Hatch plans to complete her BSN at Arizona State University, starting this summer, then work with Doctors Without Borders in underserved communities and countries.
"Many professors have guided my journey and helped me understand difficult concepts. They deserve credit for my success. Many took the time to write reference letters for me for this and other scholarships and have bent over backwards to assist me in achieving my dream. It has taken a village of highly caring individuals at NPC, from advising to professors and tutors, to get me here," said Hatch.
"I want to publicly thank all of the scholarship donors, without whom I would never have been able to afford my education," she continued. "Phi Theta Kappa and the Coca-Cola Foundation have been so generous I am beyond words to express my gratitude. The scholarships have literally transformed my life and those of my children. My only hope to receive my BSN would have been a mountain of debt. I cried tears of relief and joy when I received the news!"
"The Coca-Cola Foundation has a long history of providing financial assistance to outstanding students at community colleges," said J. Mark Davis, president of the nonprofit organization. "We are proud to partner with Phi Theta Kappa and make it possible for deserving students to achieve their educational goals."
"We thank the Coca-Cola Foundation for recognizing these student leaders and for investing in their futures," adds Dr. Lynn Tincher-Ladner, president and CEO of PTK. "Scholarships like these are integral to the success of these students in reaching their educational and career goals."
Phi Theta Kappa is the premier honor society recognizing the academic achievement of community college students and helping them to grow as scholars and leaders. The Society is made up of more than 3.5 million members and nearly 1,300 chapters in nine nations.
– – – N P C – Expanding Minds • Transforming Lives – – –