SNOWFLAKE — Tickets are now available for Northland Pioneer College's Performing Arts Department's eight April performances of The Government Inspector at NPC's Performing Arts Center on the Snowflake/Taylor – Silver Creek Campus, 1611 S. Main St.
Performances will be at 7 p.m. on Thursday, April 19 & 26; Friday, April 20 & 27; and Saturday, April 21 & 28; with additional Saturday matinee performances at 2 p.m. All performances will be in the 50-seat drama lab, so advance ticket purchases are highly recommended. Tickets are $6 in advance, or $8 on the day of the show, with a $1 discount for senior citizens (60+) and NPC students and staff. Call the Box Office, 536-6250 or reserve online.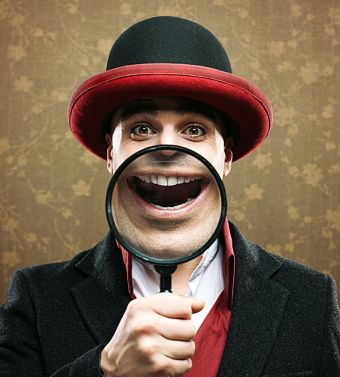 "I seldom laugh out loud when reviewing potential scripts," notes Dr. Michael Solomonson, director for the production. "You can't help but laugh during this comedy of errors surrounding an unfortunate case of mistaken identity."
In 2009 American playwright and screenwriter Jeffrey Hatcher adapted the script from the original 1836 play by Nikolai Gogol into what the Minneapolis Star-Tribune describes as "a comedy of galumphing, harrumphing hilarity. One part farce, one part slapstick, with a dash of musical theater."
The play is based upon an anecdote allegedly recounted to Gogol by Alexander Pushkin. The Russian and Ukrainian dramatist and novelist created a five-act play based on a comedy of errors, satirizing human greed, stupidity, and the extensive political corruption of Imperial Russia.
Dramatists Play Service describes the story as an unfortunate case of mistaken identity. When the corrupt officials of a small Russian hamlet learn that an undercover government inspector (the revizor) is coming for a surprise visit, the whole village spirals into a world of panic and greed when a foppish civil servant Hlestakov (portrayed by Jackson Kittrell) with a wild imagination is mistaken for the inspector.
Cast members include Kyle Webb as the Mayor; Mitchell Armer as the Postmaster; Chandon Fish as the Judge; Vera Bennett as Anna; Darion Douglas as Bobchinsky; James Hilton as the Doctor; and Jordan Dows as the Hospital Director.
Katie Hunt and Mikayla Pitterle will be sharing the role of Marya, the Mayor's daughter. Also in the cast are: Ethan Jackson as the School Principal; Jacon Shriver as Svetsunov; Cassie Spaulding as Grusha; Michael Staley as Dobchinsky; Austin Stanislawski as the Imperial Messenger; and Luke Walton as Hlestakov's valet Osip.
Others playing dual roles are Maranda Blake as a Waitress and Abdullin; Angelica Ellis as Pentelayeyev and Constable 1; Kayla Race as the Locksmith's Wife and Constable 3; Rachel Sutton as the Corporal's Wife and Constable 2; and Morgan Teigh as the Innkeeper's Wife and Chernaeyev.
Patrick Day will serve as the technical director for the production.
For questions about the play, contact Dr. Michael Solomonson, 536-6217.
– – – N P C – Expanding Minds • Transforming Lives – – –