Event Location
NPC Performing Arts Center - Snowflake/Taylor – Silver Creek Campus, 1611 S. Main St.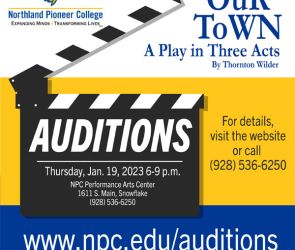 Audition for NPC's Spring Production of OUR TOWN!
THURSDAY, January 19, 6:00 pm - 9:00 pm
Click Here for more Info and to Make an Appointment to Audition!!
---

WHAT TO PREPARE:
Those wishing to audition for a role in OUR TOWN by Thornton Wilder should have read the play and be familiar with the characters. Prepare two (2) contrasting monologues from classic American plays similar in style to OUR TOWN. Each monologue should be no longer than ONE MINUTE in duration and should be gender and character appropriate to the character/s for which you are auditioning.
There is a fairly good film version (1940) with William Holden and Martha Scott which you could watch in lieu of reading the play – there are some differences from the original script, but will give you a good idea of the characters. This is available to view on Amazon.
There is also a 2003 TV presentation of the play, filmed through PBS – if you don't have time or access to read the script.
Auditions are open to everyone. If cast, individuals will need to register and pay for SPT 199, or SPT 200. (* Registration deadlines extended for actors if selected.)
Please arrive at least twenty minutes prior to your audition time to complete the paperwork and have your photo taken.
ATTENTION: PLAN AHEAD - CALLBACKS WILL BE ON January 24, 2023. WE WILL LET YOU KNOW IF YOU'RE INVITED TO A CALLBACK..