Event Location
The Church on the Blue Ridge High School Main Campus
1200 W. White Mountain Blvd. • Lakeside, AZ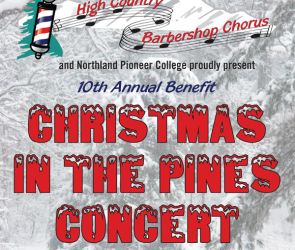 High Country Barbershop and Northland Pioneer College Proudly Present.... 
10th Annual Benefit Christmas in the Pines Concert
Tuesday, December 13, 2022 • 6 p.m.
The Church on the Blue Ridge High School Main Campus
1200 W. White Mountain Blvd. • Lakeside, AZ
Admission by Donation
Gross proceeds are shared equally by participating schools for the support of their performing arts and music departments.