Event Location
Talon Gallery @ NPC's Show Low, White Mountain Campus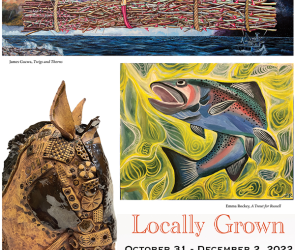 Come Experience NPC Talon Gallery's "Locally Grown Exhibition"
Oct. 31 - Dec. 2, 2022 @ the Show Low Campus Talon Gallery
Locally Grown is an exhibition of art in a variety of media. Drawings, paintings, pottery, sculptures, quilts, jewelry, and unique artwork are displayed. The winners of this year's exhibit will be announced during an awards ceremony and closing reception on Friday, December 2, from 4 p.m. to 6 p.m. at the Talon Gallery.
The Talon Gallery is located on NPC White Mountain Campus in Show Low.
All gallery events are free and open to the public.

For more information please contact the Gallery Director:
Magda Gluszek: magda.gluszek@npc.edu