Event Location
NPC's Talon Gallery - Show Low, White Mountain Campus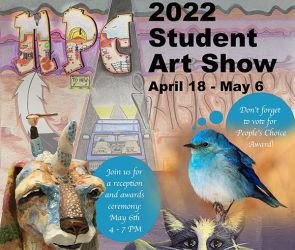 The Northland Pioneer College Student Art Show showcases student accomplishments in the visual arts and honors exceptional achievement.
All NPC students are encouraged to participate.
The NPC Student Art Show is a juried exhibition. A panel of jurors met to review all of the submitted artworks and selected the pieces that appear in the show. This year the jury members were:
Peterson Yazzie, Faculty in Art
Magda Gluszek, Faculty in Art
Patrick Day, Theatre Production Manager
Acceptance to a show that has been juried is an honor. It is a distinction which can be listed on a resume and is the type of professional recognition that is essential to any student pursuing a career in art. The jury put much consideration into the selection process. Successful composition, craftsmanship, mastery of medium and originality are all evaluated.
Congratulations to all participants!
People's Choice Award:
This is an opportunity for the public to participate in the jury process.
Simply take a slip of paper, write the name of your favorite artwork in the exhibition on the form, sign your name, and place the form in the Peoples' Choice Award Box. Award winners will be announced during the closing reception. Voting may take place from April 18 until 5 PM May 6th.
Please join us for a closing reception and awards ceremony on Friday May 6th from 4-7 PM