Event Location
NPC's Show Low Campus, Aspen Center RM 111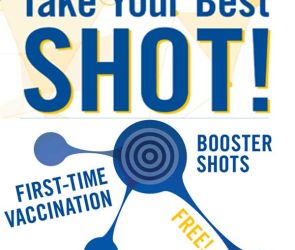 COVID-19 VACCINE CLINIC
FOR STUDENTS, FACULTY & STAFF
MONDAY NOVEMBER, 22 • 4-6 PM
NPC's Show Low Campus - ASPEN CENTER ROOM 111
NO APPOINTMENT NEEDED, BRING PICTURE ID
STUDENTS:

Receive a $50 gift card (while supplies last) for getting vaccinated at this event!  Can't attend this event? A limited number of gift cards are available (while supplies last) at each NPC location between November 23-24 when you show proof of vaccination at any NPC campus/center front office.

ELIGIBILITY: Pfizer 1st and 2nd doses, Or single dose Johnson & Johnson available.

REQUIREMENTS:
Guardians must accompany all minors
Bring a picture ID
Bring health insurance information, insurance is not required for vaccination
Expect to wait 30 minutes after vaccination for observation
ELIGIBILITY FOR BOOSTER SHOTS
Booster after Moderna or Pfizer initial series IF:
6 months or more after initial series
Meet eligibility requirements: 65 years and older • Age 18+ who live in long-term care settings • Age 18+ who work or live in high-risk settings
INDIVIDUALS THAT SHOULD NOT GET VACCINATED AT THIS EVENT:
Anyone that has a history of allergic reaction to vaccines
Anyone that cannot get the second dose of the Pfizer vaccine in 21 days
Anyone who is not age-eligible
Anyone testing positive for COVID-19 in the last 21 days or are still in quarantine
Anyone who has received monoclonal antibodies or convalescent plasma as part of COVID-19 treatment
HEALTH OFFICIALS FROM IHS HAVE PARTNERED WITH NPC TO PROVIDE THIS EVENT.
SPECIAL THANKS TO THE WHITE MOUNTAIN APACHE TRIBE!
FOR MORE INFORMATION ABOUT COVID-19 VACCINATION AND THIS CLINIC, CALL IHS AT (928) 338-3683.