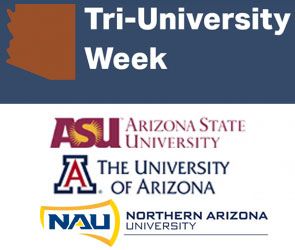 Tri-University is coming to you!
As you consider your transfer pathways from community college to university, or if you have questions about completing your applications, you are invited to an incredible opportunity to learn more about all three Arizona public universities: the University of Arizona, Northern Arizona University and Arizona State University!
Transfer Tri-University days will be held October 20 and 23, 2021. All three universities are coming together to ensure you are well informed about the opportunities and resources available to you.   We recognize the importance of working together to ensure you find the best path to achieve your goals. Topics include admissions, transfer process, pathways, financial aid, etc.  
More information can be found on the Tri-University website and you can register for any or all of the sessions listed there.
All of the sessions are hosted through Zoom, which should be accessible via computer, tablet and smart device.  We can't wait to see you there!  Should you have any questions, please don't hesitate to contact us by finding your rep on the Tri-University website.