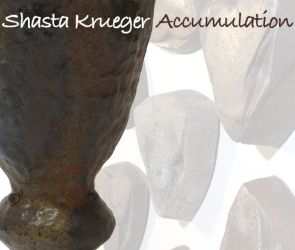 Art Collaboration with the NPC Community:
Shasta Kreuger is inviting the NPC community to collaborate with her on an installation artwork. The intention behind installation art is to alter a gallery space and affect the environment of a gallery visitor. You are invited to contribute to this community art installation project by making a small object out of clay, while following some basic instructions from the artist. No prior clay experience is needed. Anyone within the NPC service area may participate. You do not need to be enrolled as a student.

How it works:

• Watch the two short videos to learn about the project and preview the instructions for building the object

• Between these dates: 9/27/21 - 10/29/21, visit an NPC campus or center main office to pick up a bag of clay
(You may wish to call ahead to ask about availability of supplies. Clay will be periodically re-stocked until supplies run out.)
• Watch the instructional video provided and build an object along with Shasta

• Return your object to any NPC campus/center main office location by 11/1/21
• The objects will be collected and installed in the Talon Gallery on White Mountain Campus as part of an exhibition that also features Shasta Krueger's ceramic artwork. A video will be posted so that the exhibition may be experienced virtually as well as in-person.
---
Informational Video (Meet the artist and learn about the project):
---
Instructional Video (Learn how to build the object):

Tips for building the object:

• Prepare a small area to work. A kitchen table is a good place.
• You may want to work on top of a sheet of paper or cardboard to keep your table clean.
• You will need: clay and toothpick (from NPC) and a small cup of water.
• Take your time building the form. Pause the video as many times as you need.
• If your clay gets out of control, don't be afraid to start over. You may need to add a bit of water to the clay to keep it workable.
• Be gentle with your object when you bring it back to campus.
• Please return the clay object and plastic bag (we will re-use it).
---
Please contact: magda.gluszek@npc.edu for more information about this program.