Event Location
NPC's Show Low Campus, Aspen Center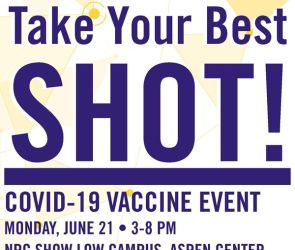 COVID-19 VACCINE EVENT
MONDAY, JUNE 21 • 3-8 PM
NPC SHOW LOW CAMPUS, ASPEN CENTER
DOOR PRIZES FOR THE FIRST 100 PEOPLE TO RECEIVE THE VACCINATION AND A CHANCE TO WIN A 12- CREDIT TUITION WAIVER GOOD FOR THE 2021-22 ACADEMIC YEAR.
GET IT DONE ALL IN ONE SHOT!
NPC FALL REGISTRATION, ADVISING AND FINANCIAL AID SERVICES AVAILABLE DURING THIS EVENT.
ELIGIBILITY: Pfizer 1st and 2nd doses (12 years and older), Or single dose Johnson & Johnson (18 years and older) available. Second dose shot clinic to be held July 12, same time and place at NPC
REQUIREMENTS:
* Guardians must accompany all minors
* Bring a picture ID
* Bring health insurance information, insurance is not required for vaccination
* Expect to wait 30 minutes after vaccination for observation
INDIVIDUALS THAT SHOULD NOT GET VACCINATED AT THIS EVENT:
* Anyone that has a history of allergic reaction to vaccines
* Anyone that cannot return in 21 days for the second dose of the Pfizer vaccine
* Anyone who is not age eligible
* Anyone testing positive for COVID-19 in the last 21 days or are still on quarantine
* Anyone that has received the Moderna vaccine
* Anyone who has received monoclonal antibodies or convalescent plasma as part of COVID-19 treatment
HEALTH OFFICIALS FROM IHS HAVE PARTNERED WITH NPC TO PROVIDE THIS EVENT.
SPECIAL THANKS TO THE WHITE MOUNTAIN APACHE TRIBE!
FOR MORE INFORMATION CALL 928.338.3683 OR GO TO WWW.NPC.EDU/SHOT-CLINIC