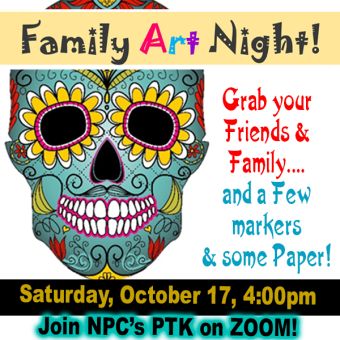 Please join us for a fun family friendly hour of drawing together via Zoom! 
Our instructor, Kate, will be demonstrating how to draw sugar skulls and make masks, garlands and decorations from them!
Join Saturday, October 17 at this link: 
https://npcedu.zoom.us/j/89606751472
Just bring some white paper and markers - also scissors, string and tape if you have some.
Use ANY of your art supplies you might have on hand! Glue, glitter and paint would be fun, but just bring what you have in the house, don't go out and buy anything special. Prepare to show off your creations! See you there!