Event Location
Little Colorado Campus, Symposium
Check in begins at 6:00 p.m.
Ceremony begins at 7:00 p.m.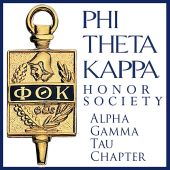 The mission of Phi Theta Kappa is to recognize academic achievement of two-year college students and to provide opportunities for them to grow as scholars and leaders.
To be eligible for membership:
You must be enrolled in an accredited institution offering an associate degree program.
You must have completed at least 12 hours of coursework that may be applied to an associate degree (part-time students may be eligible).*
You must generally have a grade point average of 3.5.**
You must receive an invitation to membership from the chapter at the college where presently enrolled.
You must adhere to the moral standards of the society.
* To find out if you are eligible for Phi Theta Kappa membership, contact April Horne at (928) 532-6143  |  email