Event Location
Performing Arts Center, Snowflake Campus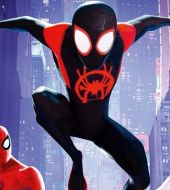 Show begins at 7 p.m.
Teenaged Spider-Man Miles Morales inadvertently crosses into a parallel "Spider-verse," where he discovers a number of other Spider-heroes. When their realities are threatened, the multi-dimensional Spider-heroes team up to save their shared existence.
Critic Christopher Schobert wrote: "'Into the Spider-Verse' is the only animated film this year that can comfortably fit on the Top 10 list for a 10-year-old superhero junkie and a late-thirtysomething film critic." Jo Berry of Movies4Kids noted that "Best of all are the visuals, which are so rich, bright and stylized that your eyes and brain will need time to adjust and your jaw will be dropped from the first scene…."
*Rated PG* (for frenetic sequences of animated action violence, thematic elements, and mild language)
Running Time: 117 minutes
All films this semester are shown through a licensing agreement with Swank Motion Pictures, Inc.