Demonstrating the Value of Northland Pioneer College
– A study done by Economic Modeling Specialists Intl., February 2015.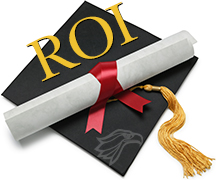 The following report assess the economic impact of Northland Pioneer College on the local business community and the return on investment generated by the college for its key stakeholder groups: students, society and taxpayers.
NPC creates value in many ways. The college is committed to putting students on the path to success and plays a key role in helping them increase their employability and achieve their individual potential. The college's program offerings support a range of industry sectors in Navajo County and supply employers with the skilled workers they need to make their businesses more productive. The expenditures of NPC, along with the spending of its employees and its students, further support the local economy through the output and employment generated by local businesses. Lastly, and just as importantly, the economic impact of NPC extends as far as the state treasury in terms of increased tax receipts and decreased public sector costs.
Click on the following links to read and download the 2015 Analysis of the Economic Impact and Return on Investment of NPC report.