Direct Care Workers (personal care assistant, home health aide) give assistance to people who are elderly and fragile, sick, injured, mentally or physically disabled. They work in the home and help their clients with daily activities, such as bathing and bathroom functions, feeding, grooming, taking medication and some housework.
They also help clients make and keep appointments with doctors, provide or arrange transportation, make and serve meals, make sure they take their medicine and serve as a companion.
NPC's eight-week Direct Care Worker (DCW) course prepares caregivers to provide assistance in a home setting with the focus on skills development in performing personal care tasks and home management. Completion of the course helps you meet minimum qualifications for hire by an agency to provide services to individuals covered by the Arizona Long Term Care System (ALTCS), a part of Arizona's Health Care Cost Containment System (AHCCCS).
Job opportunities for Direct Care Workers also exist with local home care and Medicare agencies, as well as Native American home healthcare services.
This is a short-term direct-to-work Health Services course (HES 103) with national certification upon successful completion. It is not a component of any NPC degree or certificate program.
Entry Requirements
Prerequisite: Satisfactory reading score on placement test. Co-requisite: EMT 104 (CPR & First Aid) or current CPR card. Must be 18 or older.
Work Environment
Direct care workers work in a variety of settings, including clients' homes, group homes and day services programs.
Job Outlook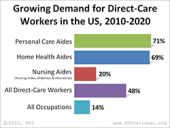 Employment of direct care workers is projected to grow 38 percent into 2024, when, according to the U.S. Bureau of Labor Statistics, the Direct Care Workforce will be the largest occupational group in the country.
Salary
Potential Job Titles
Direct care worker, personal care assistants, caregivers, home health or personal care aides
Accreditation/Affiliations
Contact Information
1001 W. Deuce of Clubs
Ponderosa Center, Nursing & Allied Health Offices
Show Low, AZ 85901

(928) 532-6136