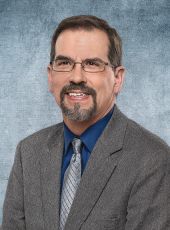 Congratulations! You have decided to be a part of Northland Pioneer College's (NPC) experience, one that I would argue is the most remarkable success story in Northeastern Arizona. Over 40 years ago, the citizens of Navajo County committed themselves to building and supporting a college that would provide high quality, high value education in local communities. NPC has traveled a long way from that very humble beginning and today offers you modern facilities, cutting-edge instructional technology and top-flight faculty and support staff.
Throughout decades of rapid change, Northland has maintained one constant: a mission to provide accessible, high quality education to generations of incoming students, regardless of those students' goals and dreams. We are proud of our role in educating the residents of Northeastern Arizona, doing our part in building an educated workforce and partnering with both the public and private sectors for the betterment of our communities. During our last accreditation visit, a team of visiting college administrators was so impressed with our mission, students, faculty and staff that they called us "a jewel in the wilderness."
I happen to agree with them. My family moved to Pinetop in 2000, and frankly we did not intend to stay more than a couple of years. But we fell in love with the beauty of this area, the openness and warmth of our communities and the amazing people we are lucky to call co-workers and friends. I am honored to be NPC's eighth president and as long as I am fortunate enough to be in this role, my personal mission will be the same as Northland's: to provide you with the resources, knowledge and tools you need to transform your life.
NPC plays a vital role for you both as a student and in your community. A 2014 EMSI economic impact study calculated that for every $1 you invest in your education at NPC, on average you will gain $6.50 in higher future wages. For our service area, each $1 invested in NPC yields $9.80 in cumulative economic and social benefits.
Choosing NPC is a smart and critical first step in your educational journey. Northland offers a comprehensive range of educational opportunities and services for you, no matter what your aspirations may be. Is your plan to pursue a bachelor's or graduate degree? NPC is a great starting point, offering high quality university transfer courses with small class sizes and the lowest tuition in the state. Our financial aid and scholarships make a bachelor's degree within your reach, no matter what your financial situation.
Are you looking for courses that will lead directly to employment, to support yourself or your family? NPC offers a wide range of skills training options with high national exam pass rates and job placement. From nurses to welders to energy technicians, NPC direct employment graduates are in demand – locally, throughout the state and across the country.
Finally, do you take the concept of lifelong learning seriously? We do. We offer college for students as young as age six (Kids College) to seniors (Learning Excursions) and everyone in between! If you're interested in just having fun learning about a subject, we offer you the opportunity to explore digital photography, how to keep your tomato plants alive and much more. NPC has something for you.