Tuition waivers, valued at over $240,000, will be awarded to 12 All-Arizona Academic Team students from Northland Pioneer College to complete their bachelor's degrees at one of Arizona three public universities. The Arizona Board of Regents awards the waivers, for up to 60 credits, to encourage the state's top scholars to finish their education.
Receiving tuition waivers will be NPC students Tiana Begay and Tirzah Jessop representing the Holbrook – Painted Desert Campus; Chelsey Anchondo and Robyn Krise representing the Winslow – Little Colorado Campus; Breanna Jakary and Cuitlahuac "Cuity" Aguilar representing the Show Low – White Mountain Campus; Amanda Hatch and Madison St. Hilaire representing the Snowflake/Taylor – Silver Creek Campus; Jeff Whiting and Ashley Jaramillo representing the St. Johns Center; and Rosalia Burr and Tracy Reidhead representing the Springerville/Eagar Center. Team members will also receive scholarships from NPC.
NPC nominees, along with 67 other top scholars from the state's other community colleges, will be honored at a luncheon, Thursday, March 1, in Mesa. NPC can nominate two students from each campus and center location to the All-Arizona team. A student must have taken a class at or originating from that location to be considered for one of the two nominations. To be eligible for nomination, a student must have a cumulative 3.5 or higher grade-point average, be working toward an associate degree and demonstrate college or community volunteerism and leadership.
Arizona, for the past 23 years, has separately recognized the state's top two-year college students as a part of the All-USA Academic Team program, co-sponsored by the American Association of Community Colleges, Phi Theta Kappa International Honor Society (PTK), Follet Higher Education Group, the Coca Cola Scholars Foundation and USA Today.
Tiana Begay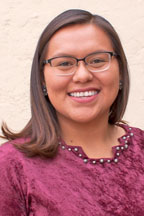 T' 11 hw7 1j7t'47go (It is up to yourself to be self-determined) writes Holbrook Head Start teacher Tiana Begay in her native language. Born and raised on the Navajo Nation, she has witnessed firsthand how much of the Diné culture is being lost with the passing of tribal elders. She plans to use her tuition waiver to transfer to Northern Arizona University to earn her bachelor's degree in elementary education so that she can share Navajo traditions with her students.
"My grandparents, the late Tom and Betty Terry, were extraordinary individuals on the Navajo Nation. My grandfather was a well-known and well-respected medicine man. My grandmother was a strong resilient Navajo woman who raised 11 children while caring for the home and raising the livestock on the farm," recounts Begay. Both were only fluent in Navajo. "Nevertheless, they encouraged their children and grandchildren to get an education."
While taking her general education classes at NPC, Begay started volunteering in her son's Holbrook Head Start classroom. That led to a her earning an Associate of Arts in Early Childhood Education (AAEC) degree in May 2017 while serving as a substitute Head Start teacher. This fall, she became the lone certified teacher at the Holbrook Head Start, with a class of eight children, ages 2 to 3, while completing additional early childhood courses at NPC.
"Receiving this scholarship allows me to strive to succeed to help my family and my Diné people when I am able to return to the reservation as an elementary school teacher," concludes Begay.
Tirzah Jessop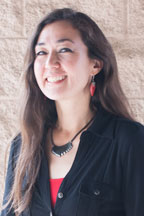 Returning to NPC after a 15 ½-year hiatus to raise eight children, Tirzah Jessop wants to become a teacher at Concho Elementary School, where some of her children attend school. She plans to use her tuition waiver this fall to become a member of the education cohort at Northern Arizona University's Show Low center.
"I really hope to teach fifth grade because of my previous experience as an aide, but whatever grade I get to teach, I truly want to help children learn and have the best, positive experience that they can in a school setting," explains Jessop. "Children need a good influence in their lives and I want to assist in helping them realize the importance of education and the tremendous possibilities open to them."
Jessop admits her first experience at NPC, just out of high school, recently married and pregnant, didn't go as anticipated. "I lost confidence in myself." However, since returning to college, she has become an example to her children and other, younger students becoming an active leader in the NPC Student Government Association. "I have taught my children to study hard and do their best in all of their endeavors. In going back to school, I wanted to prove to myself that I could succeed and be an example to my children, no matter their age or circumstances."
In addition to her own studies, Jessop helps with SGA events, volunteers at the Concho Soup Kitchen and attends her children's sports, school and music activities. "I'm a wife, a mother, and an example," concludes Jessop.
Chelsey Anchondo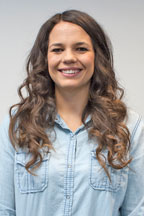 "I will not quit and will not back away until I accomplish my goal," declares Chelsey Anchondo. Her goal is to become an elementary school teacher, enrolling at Northern Arizona University in the fall and eventually become a local school district superintendent. "If I commit to a project, I do it with impeccable precedence and never quit."
Anchondo used skills she learned while taking NPC classes to launch a book drive to provide a library for underprivileged and homeless children in downtown Phoenix. She is hoping to start a similar project locally, collecting supplies and reading materials. Once she becomes a teacher, she wants to encourage every student to strengthen their inner selves while broadening their views on various subjects. "I want to inspire each child to let go of constraints and differentiate between what is possible and what is plausible," adds Anchondo.
Volunteering with NPC's Student Government Association, local food banks, blood drives, Little League and church-related events has "taught me to have compassion," says Anchondo. Nothing in life is easy, and some people get stuck with horrible circumstances. With compassion, we as a community can come together and easily help those in need. It doesn't take much to pass along a smile, that is the most important tool in helping others.
"At NPC, I have done things that I never thought were possible. I cannot compare the satisfaction of helping children with any other feeling in the world. I hope to inspire others to let go of constraints and grasp onto the courage the way I have," concludes Anchondo.
Robyn Krise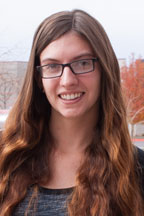 Smaller classes and knowing many of her fellow students played a key role in Robyn Krise's decision to attend NPC after high school. "I have horrid social anxiety and diving head-first into a 300-student lecture hall at a large university sounded like a waking nightmare. Knowing most, if not all, of my classmates' names and calling many of my professors by their first names at NPC makes it feel much more closer-knit than I thought possible."
Krise juggled numerous commitments throughout her high school years. She served as editor of the yearbook and as the unofficial leader of the marching band. She took summer courses at NPC and earned two transfer degrees – an Associate of Science (AS) and Associate of Arts (AA). She worked as well.
"When I began at NPC, I didn't have a clue as to what I wanted to do. I made sure to take a class or two of everything that interested me just to see which engrossed me the most," Krise explains. She found the most enjoyment in biology courses, and was planning to pursue a career in the field until a relocation and employment in the banking industry inspired her to explore a financially-related career instead. She plans to continue her education at Northern Arizona University.
"Life overall is an uphill battle, but in the end, you have to figure out what's best for you to make the fight worth it," adds Krise. "My choices are leading me down the best path for me."
Breanna Jakary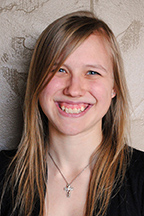 "There is nothing in this world that is not achievable for me because I believe that I can do anything I put my mind to," notes Breanna Jakary. She demonstrated that determination by completing her Associate of Arts degree with a perfect 4.0 grade-point average just one year after graduating from high school. She was named NPC's Outstanding AA Graduate, and addressed her classmates during the 2016 Commencement Ceremony.
Jakary is now enrolled in several NPC online courses, preparing to study business management at Northern Arizona University in the fall. Her long-term career goal is to own and operate an Ace Hardware franchise after gaining experience as an accountant for a large company.
The arts have been an important part of Jakary's childhood. "I was a precocious eight-year-old in Beauty and the Beast when I first discovered theatre. From that moment on, I was hooked." In high school, she was involved in several productions, participated in choir and the annual Feaste of Carols. She received an NPC Performing Arts Scholarship and appeared in two NPC productions, The Constant Wife and Treasure Island. "My favorite role was as Justice Death in Treasure Island, where I got to play a pirate, swing from ropes and do all kinds of dastardly deeds in the name of fun," notes Jakary.
"The local arts can build a strong sense of community and identity. My participation in theatre over my formative years has been an exercise in community involvement, and it brought me memories of my town as a creative entity I will never forget."
Cuitlahuac "Cuity" Aguilar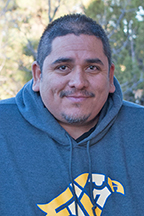 Cuitlahuac "Cuity" Aguilar is a non-traditional student "with an insatiable hunger for knowledge." After his younger sister earned her associate degree, she encouraged Aguilar to do the same. So, at age 37, he enrolled at NPC. "Growing up, many topics were of interest to me, including science, history and geography. An appetite for knowledge fueled my motivation – it is a part of who I am."
Intrigued by the history and concepts behind many subjects, Aguilar enjoys absorbing the knowledge that is provided. "It is my duty to pay attention, do well in my classes, and ace quizzes and exams."
As a single dad, he is setting an example of high academic achievement for his two daughters and for his fellow students. "In the classroom, I seek to lead by example, coming to class well-prepared, with all assigned items ready to participate in the discussion. My commitment to my fellow students continues outside the classroom where I find it rewarding to serve them as the SGA president," he adds.
The odds and expectations are stacked against Aguilar who suffers from a horrible physical disease called Ankylosing Spondylitis, an inflammatory disease that, over time, can cause some of the vertebrae in the spine to fuse. Watching him walk, you can sometimes see the pain on his face, but that does not hold him back from helping to organize SGA events. He also volunteers with NPC's chapter of Phi Theta Kappa, the international honor society of two-year college students, "benefiting society and not just myself."
"I am a disabled student, but I will succeed. I hope to inspire others that it is never too late to pursue their goals," continues Aguilar. "I hope my story encourages others with disabilities to enroll."
Amanda Hatch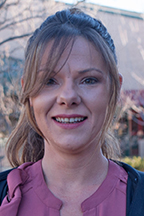 This past summer, Amanda Hatch learned of one of the worst cases of animal cruelty she has ever seen in her 15 years of working in animal rescue. The case drew international attention as she mobilized rescue groups, arranged emergency veterinary care, found foster homes for the animals and obtained the necessary evidence, court orders, publicity, legal intervention and transportation for the dogs and three donkeys that had been starved to the point of emaciation.
"This became my own summer project, just two weeks after my emergency surgery," notes Hatch. Her family spent days building doghouses from reclaimed lumber and endured threats from the puppy mill owners. "My girls and I stood up to those who have no respect for the lives of humans, animals or the law. They learned great compassion and that words are not always enough. To truly effect change, one must be ready to work and get their hands dirty."
This single mother does not step away from hard work. Hatch maintains a perfect 4.0 grade-point average covering 78 credits while working on her associate degree in nursing, taking classes for her bachelor's degree and serving as a lab aide in NPC science classes. She also serves as the SGA vice president and as president of NPC's Phi Theta Kappa chapter. Hatch is a member of several boards for local charities.
Hatch will continue her education at NAU, with the goal of becoming a Certified Registered Nurse Anesthetist and working with the U.S. Public Health Service and Doctors without Borders. She eventually wants to become a Doctor of Nursing Practice (DNP) and work in under-served regions and countries.
Madison St. Hilaire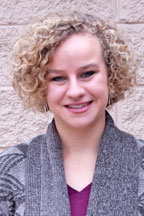 Being homeschooled exposed Madison St. Hilaire to a wide variety of educational opportunities and the entrepreneurial spirit displayed by her parents' successful dairy goat business. "Being homeschooled gave me the skill of independent learning and a broad education," notes St. Hilaire. "I grew to love learning and had the opportunity to experience hands-on business operations and spend time with artists in their studios."
St. Hilaire's love for the performing arts earned her an NPC scholarship. As a member of NPC's Soundcheck, a vocal jazz ensemble, she helped setup for the group's performances and for the college's theatrical productions. Now she is the lead vocalist in both an acoustic duo and full band, performing every week at local restaurants and donating their talents for charity fundraisers. St. Hilaire uses her business skills to market her band, as well as local businesses and community events.
A President's Scholar, St. Hilaire plans to continue her business studies at Northern Arizona University, with plans to combine her artistic abilities, especially in ceramics, with entrepreneurship in creating vintage coffee trailers. "I'm striving to have three trailers up and turning a profit within the next four years, offering a unique coffee-buying experience for customers," she notes. "Hand-thrown coffee mugs with an artistic flare can complement the purchase of a freshly steamed hazelnut latte and biscotti!"
St. Hilaire joined other volunteers this summer in giving The Love Kitchen, a soup kitchen in Pinetop, a facelift – painting rooms, sweeping floors, organizing the pantries, preparing over 200 bags with personal care items and planting a garden as part of the landscaping improvements to raise herbs and vegetables for the kitchen that serves meals to hundreds of needy folks each month. "Volunteerism is an important act that I can be involved in with my current music abilities and in the future with my entrepreneurial career," she said.
Jeffrey Whiting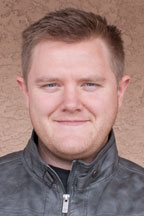 Jeffrey Whiting supports his family by working full time while taking a full class load. Receiving the All-Arizona Academic Team tuition waiver means he will be able to pursue his exercise science studies at Northern Arizona University in the fall.
Very involved in athletics growing up, Whiting suffered a knee injury in the fifth grade that required corrective surgery. "During my first appointment with the physical therapist, I remember him telling me that it would be a while, but if I did everything he told me to do then I would be back on the field stronger than before my injury," recounts Whiting. "His words brought me comfort and it is my hope that I will be able to provide that same peace and comfort to others once I obtain my doctorate in physical therapy."
An Eagle Scout, Whiting teaches a Sunday School class of 10-11-year-olds and leads an adult class to help others achieve self-reliance in their personal finances. "We follow up with one another throughout the week to give support in creating and sticking to a budget and being wise in spending," he explains.
"I haven't always been committed to academic excellence. This has been a learned character trait for me. In the last few years my academic career has become much more important. I now know that what I learn in the classroom and the study habits I develop will set the pace for the rest of my life," adds Whiting. "Since I intend to go into the medical field, it is even more important that I not only know the answers on the test, but that I truly know the material. This has become my new academic goal."
Ashley Jaramillo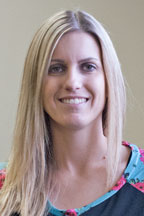 "The saying 'No Pain, No Gain' is true when it comes to getting a degree," notes Ashley Jaramillo. "You pull late nights, sacrifice time and you learn just how to buckle down and do it!"
Taking accounting classes at NPC, working full-time at White Mountain Regional Medical Center and caring for her family has given Jaramillo more confidence in the classroom and at work. She was recently promoted and has taken on more responsibilities, working with department managers on budgets, in hopes of becoming a controller after completing her bachelor's degree online through Arizona State University. She is not afraid to climb the corporate ladder. "It would be awesome to become a chief financial officer. I would love to take my career path to some big corporations and experience big things. I know I want to end my career path with a title that begins with the word 'chief,'" adds Jaramillo.
"Academic excellence is a personal goal of mine," she continues. "I want to set an example for my kids that we need to strive to do our best in school. My kids set the bar high for me, too. It doesn't look good when mom brings home bad grades."
Pushing toward a goal carries over to her passion for running. Jaramillo helps organize the annual fun run for the hospital. "I love things that keep people healthy. I want our community to be healthy and enjoy things that are good for them."
She reflects, "When I look back and think about all the hard work it took to get my degree, it makes me cherish and admire my degree more. My college experience was more than a degree; I built friendships to last a lifetime."
Rosalia Burr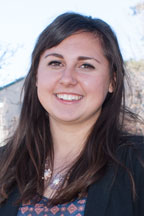 Rosalia Burr will receive her associate degree from NPC in May before she gets her Show Low High School diploma. Dedicated to academic excellence, Burr has maintained a 4.0 high school grade-point average while taking college classes and being president of her high school's Future Business Leaders of America (FBLA) chapter.
"In fact, FBLA is the reason I have a passion for business and volunteerism," explains Burr. Her service, education and progress have earned her state recognition. She is currently completing requirements for a national FBLA achievement award. Under her leadership, the chapter operates a student store, knitted and donated purple baby beanies to local hospitals to raise awareness of shaken baby syndrome and even created their own haunted house. "FBLA has given me the structure I needed to help the community and myself," notes Burr.
Burr's career goal is to become a human resources manager, which requires a master's degree and "lots of experience." She'll be taking the next step toward that goal by enrolling in Arizona State University's business management program. To achieve her goal, she is willing to "start out as an intern for a company, then get a job and work my way up."
Organizational skills make Burr an inspirational and valued leader. "Nothing makes me happier than helping others and bringing joy to people's lives. Human beings are the most important and expensive part of an organization. I want to work to develop people as much as possible, utilizing their unique strengths. Working in a Human Resources Department would be my dream career. This scholarship will play a big part in my future success."
Tracy Reidhead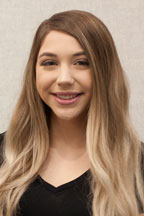 Tracy Reidhead says, "Anything you want in life requires hard work and dedication. Since beginning my education, I have consistently found the motivation and determination within myself to put my best efforts forth, and then some, into everything I do."
Now, at just 19, this young lady is a certified wildland and structure firefighter, a licensed cosmetologist and she earned an associate of applied science degree in business from NPC – all within three semesters of graduating from high school. Reidhead also serves clients by appointment at Pure Relaxation – the Sunshine Day Spa in Show Low.
The first in her family to earn a college degree, Reidhead will utilize her tuition waiver to study business/accounting at Arizona State University next fall. Her long-term career goal is to become a Chief Financial Officer. "The concept of a nine-to-five work schedule appeals to me, as I often miss family dinners and events because of work," she notes.
As a student in NPC's Fire Science Academy, Reidhead gained leadership skills as the class president and earned gold medals in regional and state SkillsUSA competitions. "Being a good leader requires a strong personality consisting of good communication skills, people skills, confidence in decisions and numerous other characteristics that have allowed me a massive advantage academically," she explains.
While an NPC cosmetology student, she applied special effects makeup to participants in a mock car crash to help raise awareness of the consequences of underage drinking. "While the makeup is only a small portion of the event, it is a crucial step to account for the realism that is trying to be conveyed. Without seeing the physical bodily repercussions, the consequences of underage drinking don't seem as real. This event made an enormous impact on me."
A complete list of past NPC recipients of the All-Arizona Academic Team honor can be viewed online.
Northland Pioneer College serves the residents of Navajo and Apache counties through four regional campuses and five centers with a variety of educational options for academic, career and technical and personal enrichment. NPC supports each student's educational goals through affordable tuition, small class sizes and caring, professional instructors. For more information about NPC programs and services, call (800) 266-7845.
– – – N P C – Expanding Minds • Transforming Lives – – –